DRS MUX/DEMUX 3G Cards handle 256 audio channels each.
Press Release Summary: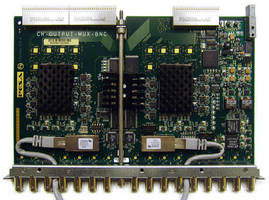 Cheetah DEMUX-3G de-embedding card and MUX-3G embedding card fully integrate Cheetah 3G I/O video signals with Cheetah DRS audio routing distribution systems. From HD-SDI and 3G-SDI sources, both cards handle up to 16 individual video signals and up to 16 audio channels for each video signal. As many as 8 audio channels are supported from SD-SDI, 270 Mbps signals. Cards also detect compressed Dolby audio, 3G-SDI Level B, or ASI formatted 270 Mbps signals and pass them through unaltered.
---
Original Press Release:

PESA Upgrades Cheetah DRS MUX/DEMUX 3G Cards with Double Audio Channel Capacity, Reduced Power Consumption



Huntsville, Alabama — PESA, a leading U.S.-based designer and manufacturer of professional audio and video connectivity, today announced its upgraded Cheetah DEMUX-3G de-embedding card and MUX-3G embedding card, which double audio channel capacity to 256 channels per card and reduce power consumption. Designed to fully integrate Cheetah 3G I/O video signals with Cheetah DRS audio routing distribution systems, the new cards will be showcased at the 2014 NAB Show (Booth SL4619), which runs April 7-10 in Las Vegas, Nev.



From HD-SDI and 3G-SDI sources, both cards handle up to 16 individual video signals (input or output, depending on the card) and up to 16 audio channels for each video signal. Eight audio channels are supported from SD-SDI, 270 Mbps signals. The cards can also detect compressed Dolby audio, 3G-SDI Level B or ASI formatted 270 Mbps signals and pass them through unaltered. Individual time code signals can be embedded (MUX) into each video channel or extracted (DEMUX) for distribution through the DRS system.



The Cheetah DEMUX-3G and MUX-3G support AES, embedded, MADI or analog audio signals and are compliant with SMPTE 259M, 292M and 424M. The cards also include a number of standard audio processing features, including the ability to add up to five seconds of delay per channel, invert audio signal polarity, pair audio signals and switch them as a pair, sum or subtract paired audio signals, and provide internal test tones that can be embedded into output video signals.



With audio and video sharing the same data stream, the cards reduce potential switching errors and lip sync issues while reducing and simplifying cabling. Plus, newer FPGA technology lowers power consumption – almost 40 percent in the DEMUX card and more than 15 percent in the MUX – which provides greater resources for future enhancements. The cards support CAT-5 connectivity for cable runs up to 300 feet and fiber for longer distances.



"Embedded audio has become increasingly important for complex live productions such as professional sports coverage, because it makes it easier to integrate a variety of audio signals – such as the television and radio announcers, which are often produced in multiple languages – through one connection," said Keith Bond, vice president of product management. "Our second generation Cheetah 3G embedder and de-embedder cards have been enhanced with features our customers need for more efficient signal distribution."



PESA's Christopher Thomas, executive vice president of engineering and CTO, will be part of a panel debate, "The Role of Audio in the Connected World," at the 2014 NAB Show on Wednesday, April 9, at 3 p.m. The educational session will be held in the Connected Media World Theatre at the Las Vegas Convention Center and is free to all registered NAB attendees.



About PESA

As a leading provider of audio/video (A/V) Baseband and IP connectivity products, PESA offers a wide selection of multi-path streaming products, routing switchers, matrix switchers, extenders, converters, media extenders, and signal processing gear to support government, military, industrial, commercial, medical, broadcast, and mobile truck applications. From large to small-scale A/V routing and extender products to multiple IP streaming appliances, PESA offers a diverse suite of AV products, all of which are supported by 24/7 technical support. PESA is located in Huntsville, Ala., with regional sales offices throughout North America and China. Our cost effective solutions are available around the world through our industry leading team of Channel Partners offering local support and installation. All products mentioned herein are trademarked property. Learn more about us at www.pesa.com and www.pesaxstream.com. Follow us on Twitter: @PESA_ONLINE.



Press Contact

Mark J. Pescatore

Pipeline Communications

561-531-3106

mark@pipecomm.com



Company Contact

John T. Wright

SVP, Sales & Business Development

256-726-9200

jwright@pesa.com

More from Electrical Equipment & Systems