Droplet Chips let users create 5-30 µm dia micro-droplets.
Press Release Summary: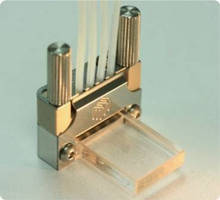 Small Droplet Chips are glass microfluidic devices for producing and analyzing micro-emulsions. They feature 14 x 17 µm X-junction with hydrophobic and hydrophilic surface properties and include on-chip filters which are provided at chip entry to prevent microchannel blockage. Operating in pressures up to 30 bar, units are compatible with Top Interface 4-way and Linear Connector 4-way devices for optimal fluidic connection to 1.6 mm OD tubing.
---
Original Press Release:

Dolomite Launches New Droplet Chip



Small Droplet Chip with Linear 30 µm diameter oil-in-water droplets Connector 4-way and Top Interface generated with the Small Droplet Chip 4-way

Royston, UK - Dolomite, a world leader in microfluidic design and manufacture, has introduced a new range of Small Droplet Chips, glass microfluidic devices which can be used with the Droplet Advanced System to generate highly monodispersed micro-droplets.

Ideal for producing and analysing microemulsions, the innovative Small Droplet Chips are currently the smallest commercial droplet-making chips available, allowing the user to create micro-droplets from 5 µm to 30 µm in diameter. The devices feature a 14 x 17 µm X-junction with hydrophobic and hydrophilic surface properties and benefit from on-chip filters which are provided at chip entry to prevent microchannel blockage.

Microemulsions offer increased stability, a higher interfacial area and the capacity to solubilize both aqueous and oil-soluble compounds. Creating monodispersed microemulsions enables breakthroughs to be made in applications such as food research, materials science and drug delivery, where smaller droplets allow improved control over the targeting and release of active compounds. The near circular microchannel profile at the junction of the Small Droplet Chip is ideal for stable and controllable droplet formation.

Operating over a wide pressure range up to 30bar, the Small Droplet Chips are compatible with Dolomite's Top Interface 4-way and Linear Connector 4-way, allowing quick and reliable fluidic connection to 1.6mm OD tubing. The Small Droplet Chip is also available in quartz for improved optical transmission.

In addition, Dolomite offers custom solutions for the generation of microemulsions below 3 µm in diameter. For further information on Dolomite's range of Micro Droplet Systems as well as a complete portfolio of microfluidic products including connectors/ interconnects, pumps, valves and custom devices please visit dolomite microfluidics.com.

The Dolomite Centre Limited

Established in 2005 as the world's first Microfluidic Application Centre, Dolomite focused on working with customers to turn their concepts for microfluidic applications into reality. Today, Dolomite is the world leader in solving microfluidic problems. With offices in the UK and US and distributors throughout the rest of the world, its clients range from universities developing leading-edge analytical equipment, to manufacturers of chemical, life sciences and clinical diagnostics systems.

Dolomite is pioneering the use of microfluidic devices for small-scale fluid control and analysis, enabling manufacturers to develop more compact, cost-effective and powerful instruments. By combining specialist glass, quartz and ceramic technologies with knowledge of high performance microfluidics, Dolomite is able to provide solutions for a broad range of application areas including environmental monitoring, clinical diagnostics, food and beverage, nuclear, agriculture, petrochemical, cosmetics, pharmaceuticals and chemicals. Furthermore Dolomite's in-house micro-fabrication facilities that include clean rooms and precision glass processing facilities allow to prototype and test all solutions rapidly which ensures a faster development cycle and reduces the time to market.

For more information please visit dolomite-microfluidics.com.

More from Agricultural & Farming Products