DRM Module enables creation of multi-standard digital radios.
Press Release Summary: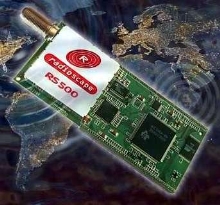 Based on radiOS(TM) architecture and Texas Instruments' TMS320DRM350 DSP-based baseband, Model RS500(TM) can receive Digital Radio Mondiale(TM) as well as Digital Audio Broadcast, FM with RDS, LW, MW, and SW to form basis for integrated, multi-standard, digital radio receiver. It supports capabilities such as pause, rewind, and record to MMC card, as well as ability to display and use electronic program guide data.
---
Original Press Release:

Radioscape Announces World's First DRM Module


Enables world's first affordable, integrated, multi-standard, digital radios to be created

London, UK - 1, June 2005 - RadioScape, the world leader in Software Defined Digital Radio solutions, has launched the RadioScape RS500(TM) module that can receive DRM(TM) (Digital Radio Mondiale(TM)) as well as DAB (Digital Audio Broadcast), FM with RDS, LW, MW and SW to form the basis of the world's first affordable, integrated, multi-standard, digital radio receivers. The RS500 is based on RadioScape's innovative radiOS(TM) architecture, enabling re-use of existing applications and features previously developed for the RS300L(TM) DAB/FM module. Many of the innovative features available on the RS300L have been directly implemented on this module, accelerating time to market for a fully featured receiver design. The RS500, for example, immediately supports capabilities such as the highly popular Pause, Rewind and Record to MMC card features as well as the ability to display and use Electronic Programme Guide (EPG) data.

"Because we create our modules using radiOS -- our own advanced Software Defined radio architecture," explained Andrew Moloney, Marketing Manager for Receivers at RadioScape, "it has been possible for us to add DRM in an affordable and user friendly form to our existing range of receiver capabilities. The RS500 is size and pin compatible with our very successful RS300L enabling radio manufacturers to migrate existing designs to the RS500, rapidly bringing to market ranges of receivers, which include DRM-capable designs, in time to catch the pre Christmas 2005 sales."

The RS500 is based on the Texas Instruments TMS320DRM350 digital signal processor-based (DSP) baseband, the first integrated digital baseband that supports both DRM and DAB standards, for which RadioScape designed the DRM baseband stack. The radiOS architecture, which is only available on RadioScape modules, extends the DSP's basic capabilities, and seamlessly manages uploads of the appropriate RadioScape software stack and/or applications to change functionality to suit the requirements of the moment. This significantly improves the user experience, masking transitions between different broadcast standards by automatically listing all services alphabetically regardless of transmission type so that users select by content and avoiding the need for manual band switching.

Modules will be sampling in August of 2005, with volume production following shortly thereafter. RadioScape forecasts that multi-standard, multi-band receivers based on the RS500 could have end user prices below $250 -- almost a quarter the price of existing DRM receivers in the market.

"This is the breakthrough that DRM has been waiting for," said Peter Senger, DRM Chairman and Deutsche Welle COO. "Until now there have only been a limited number of DRM receivers available. This new module from RadioScape will open up the market with easy to use, consumer priced, multi-standard receivers in the same way that the company helped open up the DAB market. The broadcasts are already in place with dozens of broadcasters currently transmitting around the world."

"WorldDAB and DRM have been co-operating for sometime," added Annika Nyberg, President of WorldDAB. "There are synergies between DAB and DRM business models. These synergies will provide an added boost in many countries as multi-standard digital radios bought for DRM will also receive DAB providing broadcasters with large potential audiences."

About DRM
DRM is the only global standard for the digitising of broadcasting in the AM (SW, MW and LW) frequency bands. Able to cover great distances and provide near "FM quality" audio using much lower transmission power and smaller amounts of spectrum, DRM is currently being widely adopted around the world to provide new and higher quality broadcasts for both national and international audiences. Over 20 Broadcasters are already broadcasting using DRM across the globe and include the BBC (World Service), Deutsche Welle, RTL Group, Radio Netherlands, and TDF. More information can be found at www.drm.org

About RadioScape
RadioScape® Ltd. is the world's only developer of end-to-end digital audio broadcasting solutions giving RadioScape unmatched systems knowledge and enabling it to ensure that customers receive the highest levels of quality, robustness and reception at all stages. Its Digital Radio broadcast suite is used extensively throughout the world including the largest DAB installation to date -- the UK's commercial DAB network.

Its innovative Software Defined Digital Radio(TM) approach has made it a leader in DAB and DMB technology with its DAB receiver modules being extensively used by many of the world's leading consumer electronics manufacturers. The company has announced that it is working on DRM capability that will result in true, multi-standard, digital radio receivers.

Founded in 1996, RadioScape's investors include Atlas Venture, Royal Bank Ventures, Scottish Equity Partners, JAFCO, Texas Instruments, Yasuda Enterprise Development, iGlobe Partners, Psion and NTL. RadioScape is headquartered in London, England with offices in Singapore and Hong Kong. For more information, please visit www.radioscape.com

RadioScape is a registered trademark of RadioScape Limited. All other trademarks are acknowledged.

For an image of the RadioScape modules, please go to
http://radioscape.com/Resource_Library/Images/Modules/default.asp

For more information, please contact:
Nigel Oakley
VP Marketing
RadioScape Ltd
+44 20 7317 1969
nigel.oakley@radioscape.com

More from Controls & Controllers