AC Motor Controllers and Drives
Drives incorporate Optimal Braking(TM) technology.
Press Release Summary: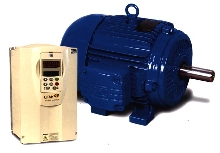 CFW-09 Vectrue(TM) adjustable speed drives offer V/Hz sensorless vector and closed-loop vector control. Alphanumeric keypads allow users to match control mode to application. Drive family ranges from 1 1/2 to 500 hp. Three units may be connected in parallel to serve motors up to 1,500 hp. Features include 7-segment LED; 2-line, 16-character LCD; 32-bit RISC microprocessor; and digital and analog I/O array. Process cycles and speeds are programmable.
---
Original Press Release:

WEG Combines V/Hz and Vector Control in One Drive


New CFW-09 Vectrue(TM) Also Incorporates Advanced Braking Technology

Marking a step forward in adjustable speed drive versatility, CFW-09 Vectrue(TM) drives from WEG offer volts-per-hertz, sensorless vector, and closed-loop vector control in a single drive. Matching the control mode to the application is as simple as selecting a parameter via the drive's operator-friendly alphanumeric keypad.

In addition, Vectrue drives feature WEG's proprietary Optimal Braking(TM) technology. This provides greatly increased braking torque compared with conventional DC braking and, in many applications, eliminates the need for dynamic braking and its associated DB resistors.

The Vectrue drive family extends from 1 1/2 through 500 HP, covering the vast majority of applications in HVAC, fluids handling, - material handling, general manufacturing, and the process industries. A total of three units may be connected in parallel to serve motors up to 1,500 HP.

"Drawing on the resources of our Global Technology Committee, WEG engineers have designed Vectrue drives with the ultimate in technology and sophisticated microprocessor algorithms, " said Tony Hood, vice president of sales and marketing for WEG Electric Motors Corporation. "A single drive family can now answer the needs of virtually any application, from pumps and fans using relatively straightforward control schemes, through specialized process equipment requiring precise vector control, and everything in between."

All Vectrue drives, regardless of size, utilize the same intelligent keypad interface with dual readouts. A large seven-segment LED, readable from a distance, is combined with a two-line, 16-character LCD for detailed parameter and message displays in English, Spanish or Portuguese.

The detachable keypad also incorporates a time-saving copy function. This allows parameter sets to be stored in the keypad, which can then be removed and used to conveniently set up other drives in the system using the same parameters.

Other important features of the CFW-09 Vectrue drive family include:

- Variable torque and constant torque ratings

- High-performance 32-bit RISC microprocessor

- Full digital and analog I/O array

- Oriented start-up guides operator through initial parameter settings

- Self-tuning to match drive to motor and load in vector modes

- Programmable process cycles

- Eight programmable speeds

- Adjustable V/F curves

- Critical speed skip

- "S" ramp accel/decel

- Integrates with communication networks including Profibus DP, DeviceNet and Modbus RTU

- Works with common DC bus configurations and regenerative systems

WEG Electric Motors Corporation, headquartered in Suwanee, GA, is a major supplier of industrial-duty and HVA C electric motors and drives in the United States, and is a charter member of the NEMA Premium Efficient Electric Motor Program. Together, the WEG Group of companies stands as one of the world's largest manufacturers of electric motors, drives and related products.

Marketing Department

WEG Electric Motors Corp.

1327 Northbrook Parkway

Suwanee, GA 30024

Phone: 770-338-5656

Fax: 770-338-1632

www.wegelectric.com

More from Chemicals & Gases