Drivers allow third party hardware to run LabVIEW programs.
Press Release Summary: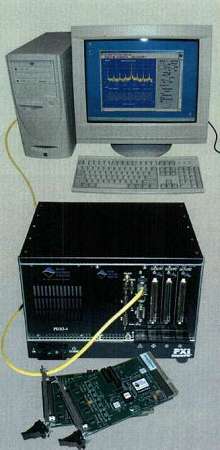 PowerDAQ for LabVIEW Real-Time Drivers allow PXI analog and digital I/O cards to run as part of LabVIEW Real-Time system. Each PXI card comes with onboard digital signal processor and offers sampling to 2.2 MHz. Cards are available with 8 simultaneous analog inputs, 32 independent analog outputs, or with 64 digital I/O lines and high-speed streaming to disk.
---
Original Press Release:
UEI Drivers Unchain LabVIEW Real-Time from Proprietary Hardware

Already, the first vendor to offer LabVIEW for Linux drivers, UEI becomes the first to supply PXI drivers that allow third-party hardware to run LabVIEW Real-Time programs.

Canton, MA (Jan 29, 2003) - Giving OEMs and end users alike new freedom and flexibility in configuring their realtime systems, United Electronic Industries is shipping a set of drivers that allow its family of PXI analog and digital I/O cards to run as part of a LabVIEW Real-Time system. Further, engineers can also use a PXI chassis and controller card from UEI as the basis of a LabVIEW Real-Time runtime system. This is the first time that users have been freed from the shackles of proprietary hardware when setting up a system under that operating environment. These PowerDAQ for LabVIEW Real-Time (PD-LVRT) drivers ship at no charge on the PowerDAQ Software Suite CD that accompanies every hardware purchase. The drivers are also available for free downloading from www.ueidaq.com/download/.

To understand the significance of this driver release, consider some background. Recognizing the importance of realtime performance in today's R&D and factory-floor environments, National Instruments created a version of LabVIEW that compiles a special VI (a computer program in LabVIEW parlance) that users download to a separate runtime vehicle that has its own CPU. The controller on that vehicle is then configured to execute the special VI under the LabVIEW Real-Time runitime environment, which is actually a version of the Phar Lap Runtime ETS Kernel from Venturcom.

Using a special floppy disk prepared with the help of the LabVIEW Real-Time development tools, the user boots the execution vehicle into this kernel, and thus Windows or any other
operating system is no longer available. There are only a few restrictions on which PXI controllers can run the kernel and thus also the special VI with the user application. However, a
prospective user must purchase NI's PXI-based I/O cards because those are the only ones for which NI supplies drivers that allow I/O cards to work with LabVIEW Real-Time.

The Real-Time Alternative

If prospective users find that they're not satisfied with the limitations, performance or pricing structure of LabVIEW Real-Time or the hardware required for such a configuration, they for the first time have an option. Specifically, the PowerDAQ LabVIEW Real-Time drivers allow them to populate a LabVIEW Real-Time based test system by choosing among the variety of PXI I/O
cards that UEI offers - today some 38 individual models that meet virtually any application requirement. Like all PowerDAQ cards, each comes with an onboard DSP. Highlights include
sampling to 2.2 MHz, cards with eight simultaneous analog inputs, cards with 32 independent analog outputs, and cards with 64 digital I/O lines and high-speed streaming to disk, all at very attractive prices. In addition, users can purchase a complete PXI setup - chassis, controller card and I/O cards - from UEI. LabVIEW Real-Time has never before had such flexibility!

One outstanding feature of UEI's approach to LabVIEW Real-Time is that we don't force you to change the user-application VI based on the target execution environment. The identical VI
works under Windows, Linux or LabVIEW Real-Time. Our low-level VIs instead make a call to a DLL that provides the interface to the ETS kernel when running under that environment. Moving the user-application VI to a different operating environment means only supplying the corresponding DLL.

Thanks to UEI, when it comes to LabVIEW, users get ultimate freedom of choice in both hardware and software.

Price and Availability

The PowerDAQ LabVIEW Real-Time (PD-LVRT) driver ships at no charge with all UEI PXI cards and is available immediately. For more information about this software or the hardware it
supports, users can go to www.ueidaq.com or call 800-829-4632.

About United Electronic Industries, Inc

Known as "The High-Performance Alternative," UEI is a supplier of leading-edge PCI- and PXI-based data acquisition cards, distributed I/O systems, signal-conditioning accessories and
software. In particular, it has emerged as a market leader in the field of hard realtime data acquisition on PCs through its support of realtime Linux implementations and commercial
RTOSs. Among its major markets are sophisticated production test systems, process monitoring and control as well as research/development.
More from Paints & Coatings