Driver/Motor Packages support CANopen communications.
Press Release Summary: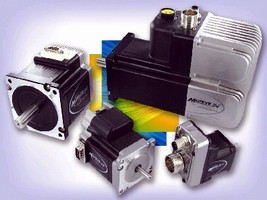 Combining microstepping driver and motion controller with NEMA 17, 23, and 34 brushless dc motors or NEMA 34 and 42 brushless ac motors, CANopen MDrivePlus(TM) packages deliver holding torques from 32 oz-in. for single-stack size 17 to 2,294 oz-in. for double-stack size 42 ac. Up to eight 5-24 V general-purpose I/O lines and optional closed-loop configuration are available. Interface to CANopen is accomplished via DB9 connector or 5-pin Euro circular industrial connector.
---
Original Press Release:

CANopen MDrivePlus Communications Protocol Available



IMS delivers Excellence in Motion(TM) with unsurpassed performance and smoothness in its new CANopen MDrivePlus(TM) products which combine a technically advanced, highly integrated microstepping driver and motion controller with NEMA 17, 23 and 34 high torque brushless DC motors and NEMA 34 and 42 brushless AC motors for compact packages that deliver holding torques from 32 oz-in (22.6 N-cm) for a single-stack size 17 to 2294 oz-in (1620 N-cm) for a double-stack size 42 AC.

Patented 2nd generation technology of the MDrivePlus(TM) delivers advanced current control flow through the motor, significantly dampening resonance over the entire speed range and reducing audible noise. Up to eight +5 to +24 volt general purpose I/O lines and an optional closed loop configuration are available. Interface to the CANopen MDrivePlus(TM) is accomplished via a standard DB9 connector or a 5-pin Euro circular industrial connector. A broad operating temperature range of -40° up to +85° C provides long life, trouble free service in demanding environments.

CANopen MDrivePlus(TM) communicate using CiA DS-301. Features include node guarding, heartbeat producer, extended node identifier, SDOs and PDOs with variable mapping. The CAN bus is 2.0B active and is capable of all standard frequencies from 10kHz to 1MHz. Supported modes of operation include: Profile Position, Homing and Profile Velocity using DSP-402 specification and object dictionary. An optional dongle with IMS CANopen GUI is offered for ease of interface. More complete details are available at www.imshome.com/canopen.html

For more information contact Intelligent Motion Systems, Inc.
Phone: (860) 295-6102 Fax: (860) 295-6107
Home Page: www.imshome.com E-mail: info@imshome.com

More from Material Handling & Storage