Driver-MOSFET Integrated SiP achieves 87% max efficiency.
Press Release Summary: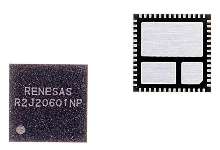 Housed in QFN 56-pin package, R2J20601NP Driver-MOSFET Integrated SiP (system in package) integrates driver IC and 2 power MOSFETs with high- and low-side functions. It achieves efficiency of 87% max at 1 MHz operation and is suitable for voltage regulators that manage switching operation of CPUs used in PCs and servers. Conforming to DrMOS specification, product measures 8 x 8 x 0.8 mm, allowing for reduction in size of voltage regulator.
---
Original Press Release:

Renesas Technology's 'Driver - MOSFET Integrated SiP,' Conforming to the Package Standard "DrMOS" for CPU Voltage Regulators, Achieves Industry's Best Efficiency and Smallest Size


- Diver IC and Two Power MOSFETs in a Single Package Achieve Industry Top Efficiency of 87% max.at 1 MHz Operation and Require Less than Half the Mounting Area of Previous Renesas Devices -

TOKYO and SAN JOSE, Calif., - April 20, 2004 - Renesas Technology Corp. today announced the system in package (SiP) device, " Driver-MOSFET Integrated SiP " that integrates a driver IC and two power MOSFETs with both high-side and low-side functions. Available in a QFN 56-pin package, the SiP device is suitable for voltage regulators that manage the switching operation of CPUs used in PCs and servers.

In the initial phase, Renesas Technology is releasing the R2J20601NP, a power MOSFET device that enables higher frequency and efficient operation of voltage regulators, while maintaining its compact size.

Sample shipments will begin on April 21, 2004.

Integrating a driver and both high-side and low-side power MOSFETs, the new device is also compliant with the package standard "Driver-MOSFET integrated SiP (DrMOS)," proposed by Intel Corporation.

Features of the new product are summarized below.

(1) Industry Top Efficiency of 87% max. at 1 MHz Operation
The new SiP device achieves a maximum efficiency of 87% (Vin = 12 V, Vout = 1.3 V), the best in the industry, when operating at 1 MHz. Efficiency is 83% with a 25 A output current. This is a 6% improvement over the earlier HAT2168H and HAT2165H high-performance power MOSFET combination devices offered by Renesas. The increased efficiency and higher frequency operation allows the use of smaller and fewer passive devices, such as inductors and capacitors, thereby making it possible to make the voltage regulator substantially more compact. High power supply efficiency also contributes to reduced power consumption.

(2) Requires Less than Half the Mounting Area of Previous Renesas Devices
The SiP package integrating the voltage regulator driver IC and high-side and low-side power MOSFETs conforms to the DrMOS specification. It is a compact 56-pin QFN package (8 Ã- 8 Ã- 0.8 mm) that requires less than half the mounting area of a conventional group of three discrete (SOP-8 package) devices. This results in a significant reduction in the size of the voltage regulator.

< Product Background >
In the age of broadband the data handled by PCs and servers has increased in volume and become more complex. This has caused CPU clock frequencies to rise and resulted in a corresponding increase in power consumption. At the same time, smaller, low-voltage CPUs are proliferating. These trends toward higher speed, lower voltage, and higher current have created increased demand for compact voltage regulators that are more responsive (high di/dt), operate on reduced voltage, and can accommodate higher current levels.

In response to the demand for high-frequency and highly efficient voltage regulators, Renesas has put into mass production the N-channel power MOS FET series of high-performance power MOSFET devices employing a 0.35 µm process.

However, if the trend toward reduced voltage and increased current proceeds from the present 1.3 V and 70 A output to 0.8 V and 150 A output in the future, generally speaking, incorporating passive components such as inductors and capacitors into voltage regulators by extending current technology and methods would involve a substantial increase in mounting area equivalent to some 30% of the typical motherboard, just for the voltage regulator. It is therefore necessary to move to a higher operating frequency in order to reduce the number and mounting area of such passive components. However, increasing the operating frequency of a power MOSFET results in increased switching loss and reduced efficiency. Using conventional technology and methods it is not possible to achieve high efficiency at frequencies above 1 MHz.

To create a voltage regulator combining high-frequency and high-efficiency operation it was necessary to improve each of the individual devices incorporated into the power MOSFETs and also to reduce the parasitic inductance of the wiring between the devices. By integrating the driver IC and high-side and low-side power MOSFETs into a single package a substantial increase in efficiency has been achieved together with significant miniaturization. The result is the new SiP device " Driver-MOSFET Integrated SiP ".

In the future Renesas plans to develop versions of the device with higher output power capacity and compatibility for high input voltages for use in laptop PCs.

o Product names, company names, or brands mentioned here are the property of their respective owners.

< Applications >
· CPU voltage regulators for desktop PCs and servers
· DC/DC converters for large current DSPs and ASICs
· DC/DC converters for communications equipment

< Price and Availability > o For Reference

Product Name	Package	Sample Price

R2J20601NP	56-pin QFN	$ 6.00

Reader contact
Readers can find additional product and contact information on the Renesas Technology Web site at www.renesas.com.

About Renesas Technology Corp.
Renesas Technology Corp. designs and manufactures highly integrated semiconductor system solutions for mobile, automotive and PC/AV markets. Established on April 1, 2003 as a joint venture between Hitachi, Ltd. (TSE:6501, NYSE:HIT) and Mitsubishi Electric Corporation (TSE:6503) and headquartered in Tokyo, Japan, Renesas Technology is one of the largest semiconductor companies in the world and world leading microcontroller supplier globally. Besides microcontrollers, Renesas Technology offers system-on-chip devices, Smart Card ICs, mixed-signal products, flash memories, SRAMs and more.
www.renesas.com

< Specifications >

Item	                             Specifications

Product name	                     R2J20601NP

Input voltage	                     9 V to 16 V

Output voltage	                     0.8 V to 3.3 V

Maximum rated current	             30 A

Maximum operating frequency	     2 MHz

Maximum power supply efficiency	     87 % @ f=1MHz, Vin=12V, Vout=1.3V

Specifications	                     High-side MOSFET, low-side MOSFET, driver IC

Package	                             0.5 mm pitch, 56 pin QFN (8 mm ´ 8 mm ´ 0.8 mm)
More from Fluid & Gas Flow Equipment