Driver Amplifiers are suited for wireless applications.
Press Release Summary: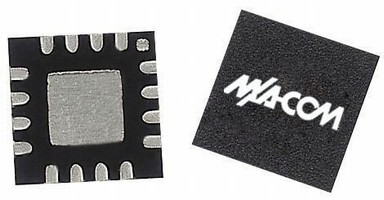 With usable bandwidth of 250-4,000 MHz, 2-stage driver amplifiers are fabricated using GaAs HBT process and are suited for greater than 2 GHz linear applications. Devices are housed in Pb-free, RoHS compliant 4 mm PQFN plastic packages. Model MAAMSS0072 achieves 23 dB gain, 27 dBm P1dB and 1.5% EVM with 18 dBm Pout for OFDM signal at 3.5 GHz with operating current of 235 mA. Geared for higher power, MAAMSS0073 achieves 29 dBm P1dB, 21 dBm Pout, and operating current of 590 mA.
---
Original Press Release:

M/A-COM Extends Family of Low-Cost HBT High Linearity Driver Amplifiers



Two-Stage Driver Amplifiers Ideally Suited for Wireless Applications

Including Basestations, WiMAX and WiBro

LOWELL, Mass, August 17, 2006 - M/A-COM, a business unit of Tyco Electronics and a leading provider of wireless radio frequency (RF), microwave and millimeter wave components, today announced new low-cost two-stage driver amplifiers, the MAAMSS0072 and MAAMSS0073, extending the company's successful family of broadband, high linearity driver amplifiers. The broad frequency range, high linearity and reliability make this M/A-COM product family ideally suited for a variety of wireless applications such as WiMax, WiBro and UMTS/WCDMA Basestations.

M/A-COM's MAAMSS0072 and MAAMSS0073 driver amplifiers are fabricated using a high reliability GaAs HBT process and achieve high third-order output intercept performance over a wide power range. The usable bandwidth for this family is extremely broad, ranging from 250 MHz to 4,000 MHz. The amplifiers can be optimized for a specific frequency range with external matching components and are housed in Pb-free, RoHS compliant 4mm PQFN plastic packages.

These linear amplifiers are ideal for greater than 2GHz linear applications by achieving higher gain while still maintaining linearity. The MAAMSS0072 is designed to achieve 23dB gain, 27dBm P1dB and 1.5% EVM with 18dBm Pout for an OFDM Signal (802.16d) at 3.5GHz with an operating current of 235mA. The MAAMSS0073 is geared toward even higher power by achieving 23dB gain, 29dBm P1dB, and 1.5% EVM with 21dBm Pout for an OFDM signal (802.16d) at 3.5GHz with an operating current of 590mA. Both amplifiers maintain excellent linearity over a wide dynamic range when backed off from the maximum power levels.

Pricing and Availability

The MAAMSS0072 and MAAMSS0073 are available from stock and are priced at $3.50 and $5.50, respectively in quantities of 12,000. Contact M/A-COM's domestic and international sales and distribution channels for exact price and delivery quotes. Datasheets and supporting technical documents are available online at www.macom.com.

M/A-COM, Inc., a business unit of Tyco Electronics, is an established industry leader in the design, development and manufacture of radio frequency (RF), microwave and millimeter wave semiconductors, components and technologies for the wireless telecommunications, automotive, aerospace and military industries. Holding hundreds of patents in the field, M/A-COM is internationally known as an innovator and integrator whose technologies are found in some of today's most advanced signal intelligence and defense systems, as well as in leading automotive navigation, safety, and communications solutions. M/A-COM is also a major supplier of critical communications systems and equipment for public safety, utility, federal and select commercial markets. Headquartered in Lowell, MA, M/A-COM has offices and manufacturing facilities worldwide. Information about M/A-COM can be found on the Web at www.macom.com, a complete, updated listing of all of M/A-COM's RoHs compliant parts is available on the Web at www.macom.com/rohs.

Tyco Electronics, a business segment of Tyco International Ltd., is the world's largest passive electronic components manufacturer; a world leader in cutting-edge wireless, active fiber optic and complete power systems technologies; and a provider of premise wiring components and systems. Tyco Electronics provides advanced technology products from over forty well-known and respected brands, including Agastat, Alcoswitch, AMP, AMP NETCONNECT, Buchanan, CII, CoEv, Critchley, Elcon, Elo TouchSystems, M/A-COM, Madison Cable, OEG, Potter & Brumfield, Raychem, Schrack and Simel. For more information, visit www.tycoelectronics.com

M/A-COM and Tyco are trademarks

Other products, logos and Company names mentioned herein may be trademarks of their respective owners.

For sales information, please contact:

M/A-COM, Inc.
1011 Pawtucket Blvd.
Lowell, MA 01853
Americas -- 1-800-366-2266
Europe/Middle East/Africa -- +44 (0) 1908-574-200
Asia/Pacific -- 81-44-844-8296


More from Services