Drive Adapter supports CANopen over EtherCAT protocol.
Press Release Summary: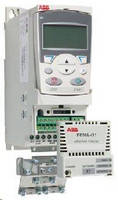 Combined with ACS355 and ACS850 drives, FECA-01 EtherCAT® Adapter offers solution for OEMs or system integrators focused on packaging, material handling, printing, rubber and plastics, and machine tool industries. Flexible plug-in fieldbus adapter provides connectivity to AC500 PLC and all other major programmable automation controllers and interfaces that support EtherCAT protocol. In addition to real-time control, solution is capable of extracting real-time data.
---
Original Press Release:

FECA-01 EtherCAT Adapter Announced for ABB Drives



New adapter utilized with the ACS355 and ACS850 drive families

New Berlin, Wisconsin, - ABB Low Voltage Drives announced today the release of the FECA-01 EtherCAT® Adapter for the ACS355 and ACS850 drives. The FECA-01 supports CANopen over EtherCAT (CoE) protocol.

"Combining this feature-rich industrial fieldbus adapter with the ACS355 and ACS850 drives will make available a great drive solution for OEM's or system integrators who are focused on the packaging, material handling, printing, rubber & plastics, and machine tool industries," said Chris Stamas, Senior Platform Solutions engineer for ABB LVD. The ease of integration is amplified with the simple configuration of ABB drive products and the ability to use standard Ethernet cabling, he noted.

The flexible plug-in adapter provides fast and simple connectivity to the ABB AC500 PLC (programmable logic controller), and all other major programmable automation controllers / interfaces that support the EtherCAT protocol. Applications include packaging machines, high-speed presses, injection molding machines, woodworking machines, machine tooling (CNC), test beds, robotics, materials handling / logistics, and high speed bottling lines (food and beverage) - just to name a few of the possibilities for coupling our advanced drive technologies with a high-speed, real-time networking technology!

EtherCAT is a Real Time Ethernet technology which aims to maximize the use of the full duplex Ethernet bandwidth. It overcomes the overhead normally associated with Ethernet via employing "on the fly" processing hardware. An EtherCAT bus consists of a master system and up to 65535 slave devices, connected together with standard Ethernet cabling. The slave devices process the incoming data directly, extract or insert relevant data, and transfer the message to the next EtherCAT slave device, making a loop.

There are several protocols that can be used as the application layer. In the CANopen over EtherCAT (CoE) technology, the CANopen protocol is applied to EtherCAT. By combining this high speed / data infused protocol with ABB's feature enriched ACS355 and ACS850 drives, customers will be able to develop robust solutions. This includes not only real time control, but also the ability to extract real- time data to gain further optimization for applications.

The EtherCAT protocol is managed by the EtherCAT Technology Group (ETG). ABB is a participating member of ETG -- vendor ID 183, which authorizes ABB to use ETG technology for implementing and providing interoperable products. The implementation of the EtherCAT(full) slave in the FECA-01 adapter is accomplished via the following specifications: ETG 2000 S R V 1.0.1 EtherCAT slave specification, IEC 61800-7 Generic interface and use of profiles for power drive system (Part 7-1: Interface definition, Part 7-2: Profile specifications, Part 7-3: Mapping of profiles CiA402 to EtherCAT).

ABB, Automation Products, Low Voltage Drives, is the world's largest manufacturer of electric motors and drives. In the USA, an integrated channel of sales representatives, distributors, and system integrators allow ABB, New Berlin, Wisconsin, to supply a complete line of energy-efficient electric drives, motors and engineered drive systems to a wide range of industrial and commercial customers. Products manufactured include AC and DC variable speed drives for electric motors from 1/8th through 135,000 HP, and application-specific drive system solutions to meet diverse customer needs (http://www.abb.us/drives).

ABB (www.abb.com) is a leader in power and automation technologies that enable utility and industry customers to improve their performance while lowering environmental impact. The ABB Group of companies operates in around 100 countries and employs about 117,000 people.

Full Story/Link: www.abb.us/cawp/seitp202/1316a0c89aee3d738525782d00599b7c.aspx

For more information please contact:

Greg Semrow, greg.semrow@us.abb.com

262-785-3502

More from Optics & Photonics