Drill Bit Holder is usable indoors or outside.
Press Release Summary: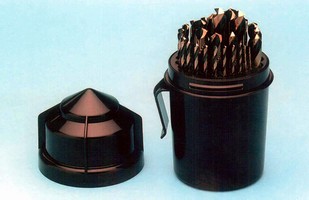 Cup shaped with screw-on domed cover, Bit Buddy clip-on drill index is made from high impact plastic with molded side hook that clips onto tool belt, 5 gal bucket, or tool caddy. It stores 29 fractional drills from 1/16-½ in. by 64ths, and comes in 2 models, one for mechanics and one for jobbers length drills. Bit Buddy is water resistant to protect drill bits from inclement weather.
---
Original Press Release:
Drill Index Becomes Clip-On Cup for Drills
Maker of the original patented drill index, Huot Manufacturing is introducing a new clip-on drill index for both inside and outside jobs. Called the Bit Buddy, the new drill bit holder is shaped like a cup with a domed cover. Made from high impact plastic, the Bit Buddy has a molded side hook that easily clips on to a tool belt, 5 gallon bucket or tool caddy. The new Bit Buddy lets a worker have 29 drills by their side. Within easy hands reach, the convenient to use drill holder eliminates wasted time from retrieving and searching for the right drill. To meet the common requirements for production, construction and maintenance work, the new product comes in two models for fractional drills from 1/16" through ½" by 64ths: one model for mechanics and one for jobbers length drills. The Bit Buddy features a fast, lA turn screw-on domed cover. If accidentally dropped or dislodged, instead of falling out drill bits remain secure and organized inside the Bit Buddy. Drills are kept from getting nicked to stay sharp longer. Made entirely from plastic, the Bit Buddy's water resistance makes it ideal for outside usage. In rain Or inclement weather, drills stay protected from the weather. Manufactured in the USA, the Bit Buddy features rugged construction for use on today's jobsites. Company Description: Huot Manufacturing is located at 550 North Wheeler Street in St. Paul, Minnesota 55104. The company manufactures and markets cutting tool storage cabinets, dispensers, and tool carts for a variety of tooling including drills, taps, inserts, CNC V-flange and HSK tooling. Additional information about Huot Manufacturing can be found at: www.huot.com Phone: (800) 832-3838 Company Contact: John Huot [email protected]