Dresser® Low Profile Repair Sleeves Can Be Installed in Less Than 35% of the Time of Any Others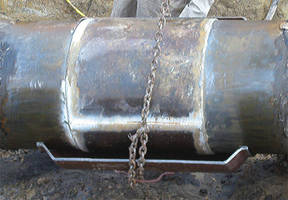 Bradford, PA - Dresser® announces the availability of its new Piping Specialties Style 220 low profile repair sleeve. This sleeve is the result of our unique manufacturing capabilities combined with an existing product, creating a repair solution that reduces labor and material costs in the field.

The Style 220 sleeve can be used on both gas and liquid transmission pipeline repairs allowing for full encirclement repair over past repairs or pipeline damage. Its innovative design replaces the wedding band oversleeve design, requiring 10 welds, with the Style 220 low profile sleeve requiring only four welds. This new sleeve does not require backing strips under longitudinal seams for further time and material savings.

"Our customers often make multiple repairs to the same pipeline. The Style 220 low profile repair sleeve will provide a significant pay back for them" stated Jolie Onuffer, Dresser Pipeline Solutions product marketing manager. "Customers who make single repairs on lines will also see significant time savings" she continued.

With only two halves requiring four welds, crews can install three times the number of repair sleeves per day, when compared to other repair methods.

About Dresser® products
Dresser® is a designer, manufacturer and distributor of natural gas measurement, pressure control and pipeline integrity products, service and repair. Dresser products are highly engineered, technically superior and are designed to help global customers meet and exceed requirements for mission-critical natural gas projects. Leading Dresser product lines include: Dresser Meters & Instruments, Becker® Control Valves, Mooney® & RedQ Regulators, Piping Specialties, FloSystems, Intervention Solutions, Andco® & RCS® Actuators and Texsteam® Pumps.

About Dresser, Inc.
Dresser, Inc. is a leader in providing highly engineered infrastructure products for the global energy industry. The company has leading positions in a broad portfolio of products, including valves, actuators, meters, switches, regulators, piping products, natural gas-fueled engines, retail fuel dispensers and associated retail point-of-sale systems, and air and gas handling equipment. Leading brand names within the Dresser portfolio include Dresser Wayne® retail fueling systems, Waukesha® natural gas-fired engines, Masoneilan® control valves, Consolidated® pressure relief valves, and ROOTS(TM) blowers. It has manufacturing and customer service facilities located strategically worldwide and a sales presence in more than 150 countries.


More from Electrical Equipment & Systems