Dress Packs provide power, data, and media to robots.
Press Release Summary: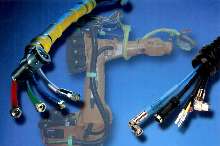 Fully-assembled Dress Packs, or umbilicals are protective polyurethane (PUR) jackets, which include components in any combination of hoses, control cables, and power cables. Hoses carry water, air, or oil. Electrical cables provide power to transformer/weld gun. Umbilicals allow user to protect entire cabling system from abrasion, weld sparks, and bending stress during robot operation. Posts, brackets, boots, and umbilical absorb kinetic energy generated by robot and welding operations.
---
Original Press Release:
All-Inclusive Life Savers
Dress packs - fully-assembled cable and hose systems for industrial robots Troy, MI, September 2002 - Dress packs - or umbilicals - providing all power, data and media needed to make a robot work are a key element of LEONI TMC's (LEONI Tailor-Made Cable) offer for the North American market. Designed and built at LEONI EPS in Troy, Michigan, LEONI's all-inclusive dress pack systems prove to be real life savers, extending the life span of bruised robotics cables and hoses by up to ten times. The bottom line for the user - ranging from spot welding and material handling in automotive to industrial assembly and paint applications - includes less breakdowns and, ultimately, improved productivity. The umbilical is an extremely flexible and protective polyurethane (PUR) jacket, which contains all components to supply a welding or handling robot with water, air, vacuum, electricity and communications. Each dress pack includes boots, which are mounted on the robot with patented bracket modules. The entire system - posts, brackets, boots and umbilical - is designed to absorb kinetic energy generated by the rugged robot and welding operations. In LEONI's yellow dress packs, all components are extruded into the umbilical shell to form a linear spring system that absorbs and distributes the stresses and loads throughout the entire module - not through a single component. In addition, LEONI also offers a black dress pack solution using a corrugated protective shell. While this highly flexible umbilical needs more support brackets than the yellow dress pack, there is an increasing number of applications where both umbilical systems are combined on the same robot (see photo). Each dress pack 'Made by LEONI' is designed and built to specific customer specifications. The yellow PUR shell is offered in ten sizes - from 35 mm to 62 mm in diameter. The umbilical includes components in any combination of hoses, control cables and power cables. The hoses carry water, air or oil. The electrical cables typically provide power to the transformer /weld gun (3 x AWG 2, 3 x AWG 4 or 3 x AWG 6), as well as data signals and power to sensors and servo encoders. Fiber optics is used for data transmission, laser welding and cutting applications. Thanks to access to the product range of the entire LEONI TMC group, which includes six cable and hose manufacturers in Europe and North America with a combined portfolio of over 25,000 tailor-made cabling solutions, a unique feature offered by LEONI EPS is that all components - from cables to hoses - are available "in-house". For its North American customers, LEONI EPS mainly counts on the expertise of Canadian cablemaker LEONI Elocab, which has been a pioneer for tailor-made robotics and welding cables since its start in 1996. In LEONI EPS systems, critical control cables are housed in reinforced tubing within the umbilical so that they can be easily replaced if needed. Interchangeability is a big factor for automotive body shops that deliver products just-in-time. Many robots have a dual function: i.e. welding and material handling. This requires a completely flexible system that can deliver air, water, power and control services to both applications. The LEONI EPS umbilicals are well suited for both applications, simultaneously. The umbilical allows the user to protect the entire cabling system from abrasion, weld sparks and bending stress during the robot operation. The high reliability of the umbilical system has allowed LEONI EPS to offer an industry leading 1-year warranty for its umbilical system. The warranty is something unheard of in this application specific industry. A unique feature is also, that the LEONI EPS umbilical systems can be adapted to any robot - regardless of its make and manufacturer. The fully assembled LEONI EPS umbilicals make robot dress a plug and play assembly. The modular system allows for easy adjustment and fine-tuning for specific applications. The total dress out time averages less than 8 hours, compared to over 35 hours for traditional cabling systems. Regardless of the robot or the system integrator used, by putting the modular LEONI EPS package to work, customers can standardize their robot dress systems across the board. This leads to a reduction in spare parts inventory and total system costs. With more than 3,000 dress packs installed across North America, LEONI EPS systems can be found in many GM, Ford, DaimlerChrysler, Nissan, Toyota, and Honda plants in the US and Canada along with tier 1 and tier 2 suppliers. Founded in 1917, LEONI AG - the parent of LEONI TMC - is a key player on the international market in the production of cables, wire and wiring harnesses. About 40 percent of LEONI's total revenue of approx. US$ 1.1 billion is cable-related with a growing portion of tailor-made designs.
Related