Drain Trap Liquid prevents sewer gas odors.
Press Release Summary: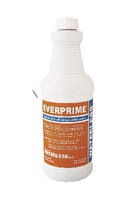 When poured down drains, EverPrime® prevents pipes from drying out for months and is not impacted by cold, hot, or dry weather. Biodegradable product has freeze point of -22°F and is suitable for use in floor and shower drains, HVAC, condensate drains, plumbing fixtures, and drains with broken trap primers. Typical applications include educational facilities, hospitals, stadiums, vacated buildings, vacation rentals, RVs, and boats.
---
Original Press Release:
Product Release Prevents Sewer Gas Smells
Winter months are often cold and dry - the perfect scenario for causing floor drains to dry up. The result is the release of sewer gas smells into the building.

Forget pouring water or bleach down the drain, this is a temporary fix. Instead, use EverPrime from Waterless Co. With EverPrime, pour 3 ounces down problem drains, that's all.

EverPrime prevents pipes under the drain from drying out for months. And EverPrime is not impacted by cold, hot, or dry weather.

For more information, visit www.waterless.com  or call toll-free: 800-244-6364.