DP Instruments measure very low pressures.
Press Release Summary: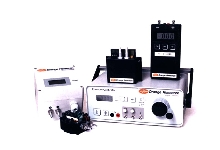 Differential pressure transmitters, calibrators, and manometers measure from 0.04 to 800 in. of water. Each instrument's transducer uses beryllium copper diaphragm coupled to inductive pickup to measure small changes in pressure. Applications include HVAC, wafer fabs, pharmaceutical clean rooms, laboratories, and hospitals. Models are available with LED displays, square-root extraction for flow measurement, and pneumatic overload protection.
---
Original Press Release:
A NEW FAMILY OF LOW DIFFERENTIAL PRESSURE INSTRUMENTS HAS HIGHLY ACCURATE TRANSDUCER

MILFORD, CT - A new family of low differential pressure (DP) instruments from Orange Research features a highly accurate inductive transducer design that delivers long-term stability and low hysteresis. The transducer extends differential pressure measurement capabilities down to 0.04 inches of water.

The transducer uses a beryllium copper diaphragm coupled to an inductive pickup to measure very small changes in pressure. The new instruments cover the pressure range from 0.04 to 800 inches of water. Applications for these sensitive low DP transmitters, calibrators and manometers include HVAC, wafer fabs, pharmaceutical clean rooms, laboratories and hospitals.

A variety of outputs are provided and models are available with integrated LED digital displays, square-root extraction for flow measurement, and pneumatic overload protection. The new family includes a highly accurate portable pressure calibrator to both generate pressure and calibrate sensors. Prices range from $128 to $493 per unit. For more information on the new family of low DP instruments, visit our website at www.orangeresearch.com or contact:

Orange Research Inc., 140 Cascade Blvd., Milford CT 06460

Toll-free 800-989-5657, Fax: 203 783-9546

e-mail: info@orangeresearch.com
More from Material Processing