Downtime Reduction System relays open-circuit events.
Press Release Summary: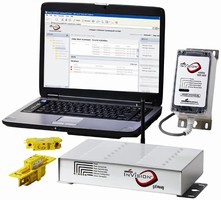 InVision(TM) System uses Intelligent Fuse Monitors, Intelligent Circuit Monitors, wireless mesh router, and software to identify and relay open-circuit events caused by short circuits and overloads. When circuit opens, maintenance staff is notified by phone, e-mail, or fax detailing circuit location, correct replacement fuse to bring, and appropriate level of personal protective equipment. System offers 99.999% event transmission reliability.
---
Original Press Release:

Revolutionary Cooper InVision(TM) Downtime Reduction System Protects the Bottom Line



ST. LOUIS, February 19, 2007 - Cooper Bussmann introduces a revolutionary wireless technology for industrial and commercial applications that can reduce downtime and increase productivity by more quickly identifying open-circuit events caused by short circuits and overloads.

"Fuses and circuit breakers protect machinery and employees. Now, with the Cooper InVision(TM) System, they can protect the bottom line, too," said Bob Bender, vice president marketing, for Cooper Bussmann. "The old adage of 'time is money' is clearly known in any facility where even a few minutes of downtime can cost dearly in terms of output and process interruption."

The cost of unscheduled downtime is a problem that plagues almost every industry. In fact, a comprehensive study of manufacturing facilities found that an open-circuit event resulted in an average of 41 minutes of downtime - including 11 minutes on average to notify maintenance and 24 minutes on average for trouble-shooting. Downtime costs can range from $300,000 to millions of dollars per site per hour. In addition to an idle workforce, downtime causes disruption to an integrated supply chain and the loss of scrapped work in process, both of which can be very expensive.

Here is how the Cooper InVision(TM) Downtime Reduction System Saves Time and Money:

When a circuit opens, the maintenance staff is automatically notified by phone, e-mail or fax of:
o The circuit's exact location
o The correct replacement fuse to bring
o The appropriate level of personal protective equipment (PPE)

The System has been field tested in harsh environments and offers 99.999% event transmission reliability. The System includes the following components that will enable it to save industry millions of dollars each year:

o Intelligent Fuse Monitors (IFMs) and Intelligent Circuit Monitors (ICMs) are battery-powered devices that monitor circuits and transmit any change in status to the system Routers.

o The set-and-forget Wireless Mesh Routers provide reliable, redundant, self-healing connectivity between the system's IFMs/ICMs and the Gateway.

o The Gateway then encrypts data received from the Routers and sends it to the secure Command Center servers via the Internet using a secure Web connection.

o The Command Center is an Internet-based application that displays the status of monitored circuits, and allows easy configuration of alert escalation and trending reports. The Command Center initiates the phone, e-mail or fax alert.

Analyze the Health of Your Electrical System
In addition to diagnosing open-circuit events as they occur, the Cooper InVision Downtime Reduction System helps to identify recurring problems - problems that operators might not know even exist. The System stores open-circuit alert data from which summary reports and trend analyses can be made to identify problem circuits that require remedial action.

Cooper Bussmann has developed a Web-based demonstration to explain how this innovative System can help facilities to better manage their operations, and to reduce downtime and expense due to open-circuit events. Please visit cooperbussmann.com/invision for more information.

Also, a Web-based tool has been developed to help calculate what a facility's downtime costs may be, and how much can be saved by implementing the Cooper InVision Downtime Reduction System. Visit cooperbussmann.com/invision/demos/calculator.html for this calculator tool.

About Cooper Bussmann
Cooper Bussmann, a division of Cooper Industries (NYSE: CBE), is headquartered in St. Louis, Missouri, and manufactures and markets circuit protection products and services globally for the electrical, electronic and transportation industries. Additional information about Cooper Bussmann is available online at www.cooperbussmann.com.

About Cooper Industries
Cooper Industries, Ltd. is a global manufacturer with 2006 revenues of $5.2 billion, approximately 85 percent of which are from electrical products. Incorporated in Bermuda with administrative headquarters in Houston, Cooper employs approximately 31,000 people and operates eight divisions: Cooper B-Line, Cooper Bussmann, Cooper Crouse-Hinds, Cooper Lighting, Cooper Menvier, Cooper Power Systems, Cooper Wiring Devices and Cooper Tools group. Cooper Connection provides a common marketing and selling platform for Cooper's sales to electrical distributors. For more information, visit www.cooperindustries.com.

More from Software