Downhole Gauge Connector withstands harsh environments.
Press Release Summary: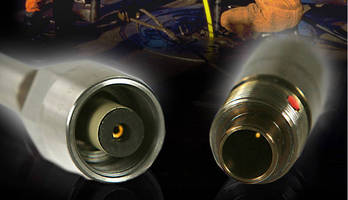 Protecting gauges and important data from damage due to failure of metal clad cable sheathing in exploration and production projects, scalable Permanent Downhole Gauge connector withstands pressure to 10,000 psi and operating temperatures to 200°C. Metal-to-metal, connector-to-cable seal is field-attachable as well as verifiable on-site before operational deployment into well. Design also includes elastomer back-up seal and is re-usable for future projects.
---
Original Press Release:

ITT Interconnect Solutions Develops Permanent Downhole Gauge Connector to Protect Expensive Equipment and Vital Data in Harsh Environment Applications



Scalable connector withstands pressure to 10,000 psi and operating temperatures up to 200°C...

SANTA ANA, CA - ITT Interconnect Solutions, a leading global manufacturer and supplier of connectors, interconnects, and cable assemblies, has developed a robust Permanent Downhole Gauge connector specifically for use in today's demanding exploration and production projects. Designed to operate at the maximum limits of metal clad cables, the Permanent Downhole Gauge connector can withstand pressure to 10,000 psi and operating temperatures up to 200°C, making it ideal for harsh environment applications such as drilling and mining.

Protecting expensive gauges and important data from damage arising from failure of metal clad cable sheathing, ITT's scalable Permanent Downhole Gauge connector features a replaceable metal-to-metal, connector-to-cable seal that is both field-attachable and verifiable on-site before operational deployment into a well. The advanced design also includes an elastomer back-up seal.

In addition, Permanent Downhole Gauge connectors are re-usable, allowing gauges to be re-used on future drilling projects.

"The cost of exploration continues to rise steeply year-to-year as wells have to be drilled deeper, increasing demands on the equipment used in these challenging environments," said Tony Shoemaker, regional sales manager at ITT Interconnect Solutions. "Maximizing production efficiency is critical to holding costs down, and the effectiveness of conventional gauge connectors was no longer proving a reliable solution. ITT's Permanent Downhole Gauge connector solution exceeds the requirements of harsh environment applications such as downhole drilling."

Applications include deep-set gauges to monitor ESP intake and discharge pressures in order to maintain optimum ESP efficiency; deep-set gauges to detect water, steam or CO2 breakthrough and deep-set gauges to monitor the effect of hydraulic fracturing in real time.

Further details are available in an Application Note downloadable from: www.ittcannon.com

About ITT Interconnect Solutions
ITT Interconnect Solutions is an international manufacturer and supplier of connectors including circular, rectangular, fiber optic, RF, power and high voltage, audio, PCMCIA, Compact Flash Card, enclosures, cable assemblies, and application specific custom solutions. The Interconnect Solutions portfolio includes the brands Cannon, VEAM, and BIW. For more information on ITT Interconnect Solutions and an archive of its press releases, please visit www.ittcannon.com.

About ITT Corporation
ITT Corporation is a high-technology engineering and manufacturing company operating on all seven continents in three vital markets: water and fluids management, global defense and security, and motion and flow control. With a heritage of innovation, ITT partners with its customers to deliver extraordinary solutions that create more livable environments, provide protection and safety and connect our world. Headquartered in White Plains, N.Y., the company reported 2010 revenue of $11 billion. www.itt.com

For more information, call 919-872-8172, or e-mail garth.miller@btbmarketing.com

More from Optics & Photonics