Downflow Booths protect against exposure to aerosols.
Press Release Summary: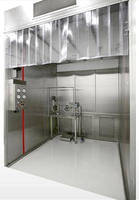 Pharmacon Downflow Booths are used in the pharmaceutical, fine chemical, and food industries for operations such as sampling, grinding, dispensing, and filling that generate airborne particles. Modular design offers widths, starting at 4.92 ft, which can be increased in 19.5 in. increments; single-, two-, or three-stage HEPA or ULPA filtration; and re-circulatory or single-pass airflow. Containment performance is verified according to ISPE Good Practice Guide.
---
Original Press Release:

NEW Esco Pharmacon Downflow Booths Picture



Singapore June 22, 2009 -- Esco announces the launch of its NEW range of Pharmacon Downflow Booths. Downflow booths are used in the pharmaceutical, fine chemical and food industries, for operations such as sampling, grinding, dispensing and filling, which generate airborne particles; when processes involve hazardous, toxic or sensitising materials and when operators, adjoining areas require protection from exposure to aerosols of the process materials.

Esco Pharmacon Downflow Booths feature:

Modular Designs - standard booth width starts at 1.5m (4.92'), and can be increased in 0.5m (~19.5") increments.

Single, Two Stage or Three Stage HEPA or ULPA filtration.

Re-Circulatory Airflow or Single Pass Airflow if solvent or hazardous fumes are present in the process (may also require explosion proof electrics).

Optional Cooling Coils to offset heat gains in re-circulatory airflow systems. (Typical heat gains ~10-15°C, dependent on process).

Proven Containment Performance - verified according to the ISPE Good Practice Guide, Assessing the Particulate Containment Performance of Pharmaceutical Equipment.

"Pharmacon Downflow Booths are premium containment products, designed/built by Esco and harnessing our critical containment technology expertise of over 30 years," said XQ Lin, Esco Vice President. "These products expand Esco's market reach into the cosmetics, fine chemicals, pharmaceuticals and other industries, where safety is paramount."

More information is available at:
http://escoglobal.com/products/containment-pharma/detail.php?id=DFB.

About Esco
Since 1978, Esco has emerged as a leader in the development of controlled environment, laboratory and cleanroom equipment solutions. Products sold in more than 100 countries include air showers, biological safety cabinets, downflow booths, ductless fume hoods, fan filter units, hospital pharmacy isolators, IVF workstations, lab animal research products, laboratory fume hoods, laboratory incubators, laboratory ovens, laminar flow cabinets, microplate shaker/incubators, modular cleanrooms, PCR cabinets, thermal cyclers and instrumentation, and powder weighing balance enclosures.

Related