Downconverter Modules are available in 1 of 6 configurations.
Press Release Summary: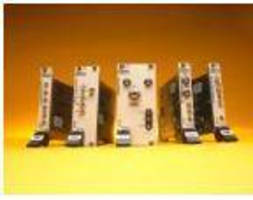 Offered in 5 models, PXI RF/microwave downconverter modules operate over frequency range of 100 kHz to 2.9 GHz, 2.7-26.5 GHz, and 100 kHz to 26.5 GHz. Units include preselection filtering in 2.7-26.5 GHz frequency range with bandwidths of 40-120 MHz and signal input attenuation capability programmable from 0-70 dB in 10 dB steps. Units operate in narrow band IF and wideband IF modes depending on resolution bandwidth needs. Local oscillator switching speed is less than 1 msec.
---
Original Press Release:

Phase Matrix Announces Release of Its Family of PXI RF/Microwave Downconverter Modules



SAN JOSE, Calif. - Phase Matrix, Inc. announced today the product release of their family of PXI RF/microwave (RF/MW) downconverter modules that were initially developed in support of a Small Business Innovative Research (SBIR) Program sponsored by the Navy (Navair PMA 260D). The complete module set will be demonstrated this week at Autotestcon 2009 in Anaheim, California. The module family consists of five PXI (3U) modules, which can be configured into any one of six primary configurations, operating over the frequency range of 100 kHz to 2.9 GHz, 2.7 to 26.5 GHz, and 100 kHz to 26.5 GHz. The modules that comprise the family are the Preselector Module, Microwave Downconverter Module, RF Downconverter Module, Local Oscillator Module, and the IF Downconverter Module.

The family of PXI modules can be programmed to perform various RF/MW signal analysis functions or emulate older/obsolete instruments when operated in conjunction with PXI or PXI Express® digitizers/controllers and digital signal processing (DSP) software; the modules are intended for use in support of portable and transportable RF/MW test systems, synthetic-instrument test systems, or surveillance applications. The family of modules employs programmable input signal conditioning in the form of preselection filtering in the 2.7 to 26.5 GHz frequency range with bandwidths of 40 MHz min. to 120 MHz max. and a signal input attenuation capability, which can be programmed from 0 to 70 dB in 10 dB steps. The downconverter family operates in both narrow band IF (21.4 MHz IF: selectable 30 kHz and 8 MHz bandwidths) and wideband IF (250 MHz IF: 350 MHz bandwidth) modes depending on the resolution bandwidth needs of the user; Local oscillator switching speed is less than 1 ms.

Phase Matrix's chief technology officer, Charanbir Mahal, stated, "This product release is the PXI industry's first 100 kHz to 26.5 GHz RF/MW downconverter family capable of providing configurable test and measurement solutions in support of dual-use [i.e., military and commercial] applications."

"The family of PXI downconverter modules are available for delivery 14 weeks ARO," stated VP of Sales, Rick Bush. Specifications are available on the Phase Matrix website, www.phasematrix.com.

The modules are intended for use with National Instruments (NI) LabVIEW®, LabWindows®/CVI®, NI Modulation Toolkit, NI Spectral Analysis Toolkit, or user provided DSP software.

Phase Matrix, Inc. is an independent, privately held, California-based corporation, which was formed in 1999 by the purchase of certain assets of EIP Microwave, Inc., a long established test-and-measurement (T&M) instrument manufacturer. Phase Matrix is dedicated to the development and manufacturing of high-quality, cost-effective, RF and microwave T&M instruments as well as sophisticated microwave components and synthetic instrument modules. The company operates in a modern 17,000 + sq. ft. facility within the "golden triangle" of Silicon Valley. Phase Matrix's senior management is comprised of experienced individuals who have successfully designed, managed, and delivered world-class, high-quality, dual-use products in support of both commercial and military applications.

Contacts

Phase Matrix, Inc.

Rick Bush, 408-954-6420

sales@phasematrix.com

Michael N Granieri, 703-644-6015

mgranieri@phasematrix.com

More from Sensors, Monitors & Transducers