Douglas Manufacturing's Magnets and Metal Detectors: Reducing Downtime and Protecting Expensive Equipment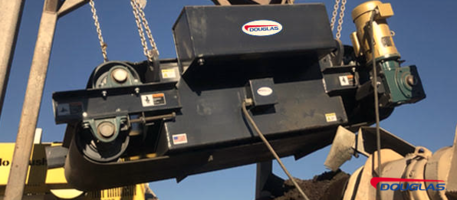 Cost-Effective and High Quality Magnetic Separators, Magnetic Pulleys and Metal Detectors to Help Protect Processing Equipment and Purify Material
Pell City, Alabama - 19th January 2021 – Douglas Manufacturing Co. is a leading manufacturer of magnets and metal detectors from Pell City, Alabama. Douglas' cost-effective solutions help to reduce downtime, protect expensive processing equipment, purify conveyed material and improve their customers' bottom line.
The magnetic separator product line at Douglas Manufacturing consists of permanent magnetic separators, electromagnetic separators, magnetic pulleys and metal detectors. These products are manufactured to meet and exceed all relevant industry standards and engineered to protect expensive processing equipment while effectively removing ferrous metals. This makes Douglas Manufacturing a trusted source for magnetic separators and pulleys which are cost-effective, durable and technologically superior.
Permanent and electromagnetic separators, available in both self cleaning and manual cleaning models, as well as heavy-duty and super duty field strengths, separate tramp ferrous metals from the conveyed material. They are suspended above the belt and pull tramp metal up and away from the belt effectively and efficiently. The self-cleaning model discharges captured ferrous metals safely away from the conveyor, and this means customers can be assured of a cleaner product with little to no ferrous metal contamination.
The team at Douglas Manufacturing is highly knowledgeable and eager to help those looking to learn more about their magnetic separators. They are here to help customers understand the differences in each model and decide which version best suits their operational needs.
The most popular and bestselling separators are:
Self Cleaning Permanent Magnetic Separator (CBM – Standard Power or CBX – Super Power).
Standard Manual Cleaning Permanent Magnetic Separators (HMG – Standard Power or XMG – Super Power).
CEMA class Permanent Magnetic Head Pulleys (PMG).
The magnetic pulleys manufactured at Douglas Manufacturing Co. meet and/or exceed CEMA/ANSI standards. They can be used for any kind of head pulley application, and with Douglas' high-quality metal separators, users can remove harmful tramp ferrous metal before it could damage expensive processing equipment.
Douglas is proud to be the preferred supplier of magnetic separators, magnetic pulleys and metal detectors. They are recognized as the top choice for conveyor solutions, not just for the quality products they offer but because of their knowledgeable and experienced team, fast delivery times, and strong desire to understand and take care of their customers.
Their team also has both the knowledge and experience to assist customers in choosing the exact solutions to meet their needs. Customers can be assured that they are partnering with the right team while choosing metal detection systems, magnetic pulleys, and magnetic separators from Douglas Manufacturing.
To learn more visit https://www.douglasmanufacturing.com/
About Douglas Manufacturing Co., Inc.
Douglas Manufacturing, established in 1978, is a leading manufacturer of conveyor components and engineered conveying solutions. The company maintains the inventory at their plant headquartered in Pell City, Alabama, as well as the distribution centers located in Dallas, Texas and Rockford, Illinois. All stock items are available for same-day shipment.
Contact:
Douglas Manufacturing Co., Inc.
Address: Pell City, AL 35125
Phone: 205-884-1200
Email: [email protected] 
Website: www.douglasmanufacturing.com