Dough Sheeter offers belt speed of 85 cm/sec.
Press Release Summary: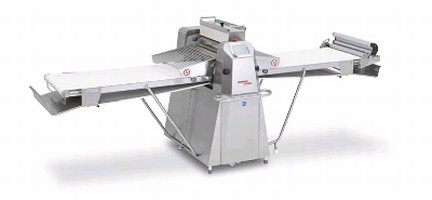 Made of stainless steel, microprocessor-controlled Rondostar 4000 features color touch screen with large symbols, 4 pre-set programs for booking and sheeting, and memory capacity of 100 programs. For security, programs can be saved on data storage medium. Width of tables is 640 mm, allowing machine to produce dough bands of 620 mm. Billets of up to 15 kilos and more can be processed. With automatic flour duster, dusting frequency and dusting width can be accurately set.
---
Original Press Release:
Rondostar 4000 - The New Microprocessor Controlled Dough Sheeter
Perfect quality through consistent automation At this year's IBA, Rondo Doge has presented Rondostar 4000, the new microprocessor controlled dough sheeter. Rondostar 4000 is a very robust machine, made of stainless steel, and easy to operate. Userfriendly PLC control When developing the Rondostar 4000, special attention was paid to userfriendliness. The machine has a colour touch screen with large, meaningful and easily understandable symbols. For easy programming and easy handling, the layout of the machine is visualised on the screen. The operator is guided step by step through the menu. Independently of the operator's language, everybody can use it right from the start without special instructions. Four pre-set standard programs for booking and sheeting are already memorised, allowing the customer to start working with the Rondostar upon receipt of the machine. Rondostar 4000 has a memory capacity of 100 programs. These can either be parameterised with one of the nine standard roller reduction curves, or, for very special dough, the operator can teach-in his specific and individual reduction steps. Particularly easy is also the manual mode. It is ideal for little jobs in-between, like producing a round pizza base. On the display appears a list with reduction steps. He simply taps on the desired steps and the machines performs the sheeting operation accurately. For security reason, the programs can be saved on data storage medium. A modem is also available on request. One machine for all types of dough With the Rondostar, all known sheeting jobs can be carried out quickly and precisely. A second sheeter is superfluous. For markets, where very short or specially thin dough has to be processed, variable belt speed is optionally available. Robust design in stainless steel Rondostar 4000 has a completely new design. Its construction is very sturdy. The base, the housing, the flour duster and the tables are made of stainless steel. The machine has smooth surfaces and no visible screws. All this, plus the proven scraper system make cleaning very easy and fast. The width of the tables is 640 mm allowing to produce dough bands of 620 mm and therefore making use of the full width of the subsequent make-up lines. The 90 mm opening of the safety guards allows to work with dough blocks with a high starting thickness. Billets of up to 15 kilos an more can be processed. With the automatic flour duster, flour is dusted evenly and accurately over the dough band. The dusting frequency and the dusting width can be set accurately. That means, considerably less flour is used. The dusting flour falls directly onto the dough band. A special plastic skirt prevents dusting flour to egress into the atmosphere. An improvement of the ambient air of up to 38% has been registered. The high belt speed of 85 cm/sec. together with the intelligent belt reversing and roller adjustment system make the Rondostar 4000 a very fast machine, suitable to feed efficiently all types of make-up lines. Rondostar 4000 is available in three versions: the SFS model with foldable tables, the SFI model with table supports and rigid structure, plus the Cutomat version with integrated cutting station. The new Rondostar epitomises the vast experience of Rondo Doge in designing and building of microprocessor controlled sheeters. With its modern control and its sturdy construction in stainless steel, it sets a new benchmark. Seewer AG Jörg Sonnabend Tel: +41 (0)34 / 420 81 07 Fax: +41 (0)34 / 420 81 99 joerg.sonnabend@ch.rondodoge.com www.rondodoge.com Pressemitteilung IBA 2006 03.04.08 5 / 5
More from Chemicals & Gases