Double-Stack Linear Actuators deliver thrust up to 7.7 kg.
Press Release Summary: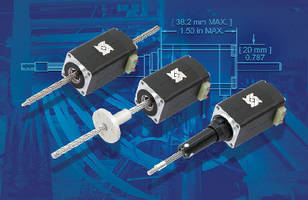 Occupying just 0.8 in.², Series 21000 Size 8 Actuators comes in captive, non-captive, and external linear versions with resolutions from 0.0025–0.04 mm per step. Units can also be micro-stepped for even finer resolution. Incorporating engineered thermoplastics in rotor drive nut and stainless steel acme leadscrew, stepper motor linear actuators are suited for medical equipment, semiconductor handling, valve control, X-Y tables, and handheld instruments.
---
Original Press Release:

Haydon Kerk Motion Solutions Adds Size 8 Double Stack Stepper Motor Linear Actuators



WATERBURY, CT – Haydon Kerk Motion Solutions, a recognized leader in linear motion solutions, has introduced its 21000 Series (Size 8) double-stack linear actuators. As the newest addition to the company's extensive hybrid motor line, the actuators incorporate some of today's most advanced motion technology. The compact actuators occupy just 0.8 sq. in. (21 mm2) and include numerous patented innovations that help to deliver high performance and endurance from a very small package.



The 21000 Series linear actuators come in three versions — captive, non-captive and external linear versions. They are available in a wide variety of resolutions ranging from 0.0025 to 0.04 mm per step and deliver thrust up to 7.7 kg without compromising long life or cost.



These models also can be micro-stepped for even finer resolution.  Haydon Kerk Motion Solutions uses proprietary manufacturing processes to incorporate engineered thermoplastics in the rotor drive nut and a stainless-steel acme leadscrew, so the motor is both efficient and durable.



Typical applications include medical equipment, semiconductor handling, valve control, X-Y tables, handheld instruments, and many more. In addition to standard configurations, Haydon Kerk can custom design these actuators to meet specific application requirements.



For technical specifications, drawings and other information visit:  http://www.haydonkerk.com/LinearActuatorProducts/StepperMotorLinearActuators/LinearActuatorsHybrid/Size8DSLinearActuator/tabid/378/Default.aspx



For more information about Haydon Kerk products, contact:

Haydon Kerk Motion Solutions,

1500 Meriden Road

Waterbury, CT 06705

Toll free: 800-243-2715

CT & International: 203-756-7441

Fax: 203-756-8724

E-mail: info.haydonkerk@ametek.com  

Website: www.haydonkerk.com



About Haydon Kerk Motion Solutions, Inc.

Haydon Kerk Motion Solutions is a business unit of AMETEK, Inc., a leading global manufacturer of electronic instruments and electromechanical devices with annual sales of $4.0 billion. 



Haydon Kerk Motion Solutions is the joining of two world-class brands in the field of linear motion: Haydon Switch and Instrument, Inc. and Kerk Motion Products, Inc. Together as Haydon Kerk Motion Solutions, the businesses offer a wide range of high-performance and precision linear motion products.



Recognized as a leading manufacturer of stepper motor based linear actuators, rotary motors, lead screw assemblies, and linear rail and guide systems used in niche market applications, Haydon Kerk Motion Solutions has developed industry-renowned brands built upon its technical innovation, versatility, customization, product durability, and dedicated customer service.





CONTACT:

Marcia Colucci

203-756-7441 ext. 255

 

More from Mechanical Power Transmission