Double Row Dual Edge Connectors eliminate need for soldering.
Press Release Summary: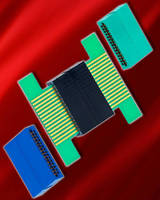 Engineered to facilitate board-to-board extensions, Dual Edge Connectors feature 0.100 in. pitch, accept 0.062 in. thick PCB in both slots, and are available with 5-60 contacts/row. Parts ensure PCBs are aligned at centerline to enable uniform signal path. Units provide minimum voltage rating of 750 Vac, current rating of 3 A/contact, and contact resistance of 30 mW. Supplied in straddle mount terminations, connectors support operating temperature of -65 to +150°C.
---
Original Press Release:

Dual Edge Connectors Now Available From Sullins Connector Solutions



Double-Row, Dual Card Edge Slots, High-Temperature Connectors Facilitate Board-to-Board Connections without Soldering

San Marcos, CA, ... Sullins Connector Solutions, a global leader in the design and manufacturing of RoHS-compliant board level interconnect products, expanded their comprehensive offering of high-temperature devices to include a full series of double-row, Dual Edge Connectors. The new series is specifically engineered to facilitate board-to-board extensions, and to serve as board savers in board stacking and board extension applications without desoldering. The standard dual-row, 0.100" (2.54 mm) pitch connectors accept a 0.062" (1.57 mm) thick PC board in both slots and are offered with from 5 to 60 contacts per row. Optionally available are 0.125" (3.18 mm) and 0.156" (3.96 mm) contact center version with 5 to 40 pins per row. Developed to deliver unsurpassed signal integrity, parts ensure PCBs are aligned at the centerline to enable a uniform signal path across the length of the connector. These robust and reliable devices tested well with HTOL (High Temperature Operating Life), HAST (Highly Accelerated Stress Test), and LTOL (Low Temperature Operating Life). They are supplied in straddle mount terminations, with flush mounting holes, or no mounting, to ensure optimal design flexibility. Dual Edge Connectors that support an operating temperature range of -65 degrees C to +150 degrees C are provided.

Commonly employed in high-density, high-temperature, high-cycle life applications in which two 0.062" PCBs need be connected, Sullins' new Dual Edge Connectors are the ideal interface for R&D and life test applications. Devices may be confidently specified in an array of industrial, consumer, and commercial systems and products, and are most commonly used in test and burn-in oven facilities, electronic component testing, data storage servers, communications and networking equipment, medical devices and LED applications.

Sullins' Dual Edge Connectors feature a current rating of 3 Amps per contact and a contact resistance of 30 Milliohms maximum. Their phosphor bronze contacts are provided standard with 30 microinch selective gold plating over 50 microinch nickel underplate. Parts can support an operating temperature of -65 degrees C to +125 degrees C or +150 degrees C, depending on the material configurations. While the +125 degree C parts can withstand reflow processes up to 260 degrees C peak for 10 seconds, higher temperature parts can withstand as long as 120 seconds at 260 degrees C. Housing materials are UL94-0 rated and insulation resistance is 5,000 Megohm minimum. Devices further boast low insertion/withdrawal forces and a voltage rating of 750 VAC minimum. For complete specifications, contact techsupport@sullinscorp.com

Prices for Sullins' standard Dual Edge Connectors with PBT/phosphor bronze materials range from $19.08 (5 positions) to $81.52 (60 positions) each. Minimum order quantity is 10 pieces. Delivery is 5 days ARO. Please contact Sullins for larger quantity pricing and/or special request materials or plating options. Samples are available.

About Sullins Connector Solutions

Headquartered in San Marcos, CA, Sullins Connector Solutions, Inc. (www.sullinscorp.com) has been a world leader in the design, engineering, and manufacturing of high-quality edge cards and headers since 1971. The Company provides the industry's widest selection of UL/CUL approved edgecards, and additionally offers product development services together with engineering support. Sullins' edgecards, headers, bi-level and CompactPCI connectors are widely specified for use in mission-critical applications by a broad spectrum of leading industrial, commercial, military and consumer products manufacturers. Sullins' connectors and interconnect systems are available through a global network of sales representatives and distributors.

More from Communication Systems & Equipment