Double Pole Miniature Rocker Switch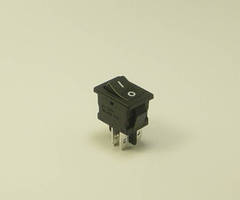 Beaverton, OR - Phaseda LLC has introduced its RL3-10 rocker switch series.

This miniature rocker switch has both single pole and double pole versions. It has 10A 125VAC UL approved rating, with working temperature up to 105°C.

The switch has On/Off function, On/Off/On, On/On, plus momentary spring return as well. The body is made from PA66, and contacts of silver alloy. It has VDE approval, and is fully compliant with European RoHS requirement.

This switch snaps easily into standard panel cut-out hole. PVC cap is available for dust & water protection. Customers can get detailed spec sheets from the company's website www.phaseda.com. Or call 503-564 4647 for more details.

More from Fasteners & Hardware