Double Nut Design stops errors caused by spacers.
Press Release Summary: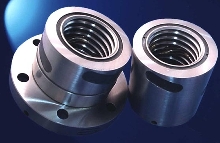 UNILOCK double nut design for large precision ground ball screws eliminates need for spacers or connecting hardware. Its method also eliminates backlash by using two nuts preloaded against each other and then locked using integral bonding system. With minimal number of parts, double nut eliminates angular errors in assembly of two nuts. UNILOCK system is available for ball screw diameters from 16 to 100 mm.
---
Original Press Release:
Patented Manufacturing Method Produces More Precise Double Nuts for Ball Screws

Bedford, MA, August 1, 2002 -- Steinmeyer, Inc. announced a new and unique double nut design for their large precision ground ball screw product line. Through the use of a patented manufacturing method, the new type of nut, named UNILOCK, completely eliminates the need for any spacers or connecting hardware often found in conventional double nuts. The benefits are improved ball screw accuracy, rigidity and life. Why? Because the UNILOCK method of eliminating backlash uses two nuts directly preloaded against each other and then locked using an integral bonding system. This avoids the need for shims or other hardware to adjust the spacing between the two nuts. Shims usually introduce angular errors. By reducing the number of parts in the double nut, Steinmeyer has not only improved ball nut stiffness but also simultaneously eliminated angular errors in the assembly of the two nuts - errors that may lead to accuracy problems, increased wear and reduced life. A high strength epoxy secures the two nuts together, thus maintaining the factory set preload.

Prior to adding adhesive, the initial adjustment of idling torque at the factory is fast and easy as one nut is simply rotated with respect to the second. Repair is also facilitated because the double nut can be removed and re-installed as a single piece. The UNILOCK system has proven its reliability under rigorous test conditions as well as actual production machine operation. Steinmeyer's UNILOCK system is available for ball screw diameters from 16 to 100 millimeters. Applications include machine tools, automation mechanisms, pick and place systems, medical equipment, semiconductor processing machines, robotics, and material handling systems.

For further information about UNILOCK call 1-800-297-6403 or visit www.steinmeyer.com.
More from Computer Hardware & Peripherals