Double Miter Saw suits small/large molding applications.
Press Release Summary: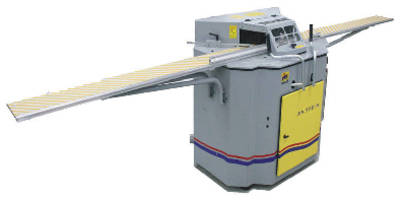 Developed for precision cutting and producing perfect miter corner joints, Inmes IM-350 employs two 350 mm blades capable of cutting up to 8¼ x 4 1/8 in. molding at 45°. Cable-activated adjustable molding clamps securely hold molding during cutting, and 2 dust ports on rear facilitate connection to collection system. Featuring 2 heavy-duty 2 hp motors that turn saw blades at 4,450 rpm, saw has output rated at 320+ frames per day. Included molding stop promotes production accuracy.
---
Original Press Release:
Inmes IM-350 Double Miter Saw from Pam Fastening Technology for Small and Large Moulding Applications
CHARLOTTE, North Carolina--- A rugged Inmes IM-350 Double Miter Saw from PAM Fastening Technology has been introduced that makes quick work of cutting small and large moulding applications. The PAM Fastening IM-350 double miter saw was developed for cutting with absolute precision giving a perfect miter corner joint. The two large 350mm blades are easily capable of cutting up to 8 1/4" by 4 1/8" molding at 45°, yet it fits comfortably in most framing shops. The IM-350's cable activated adjustable molding clamps securely hold molding during cutting, enhancing safety by keeping the operator's hands a safe distance from the saw blades. Another feature to improve the work environment is the availability of two dust ports on the rear, making it much simpler to connect to your dust collection system, so it is easier to maintain a safe and clean working environment. The saw table and cabinet are built of heavy-duty cast iron to ensure durability and ability. The cabinet is designed with powder-coated surfaces for extended life and has an internal waste drawer to capture scrap materials. The included molding stop allows production of accurate and repeatable cut lengths. Output and Power The Inmes IM-350 is rated at 320+ frames per day. It also features two heavy-duty 2 horsepower motors that turn the saw blades at 4450 RPM. Standard electrical requirements are a 208 v, Single Phase (3 Phase available) circuit. Dimensions of the cabinet are 54" wide x 31 1/4" long x 40" high. The overall length of the saw with both support arms in place is 13' 2" and each extension on the right and left is 50". The entire machine weighs 940 Ibs. About PAM Fastening With over 25 years of experience, PAM Fastening Technology, Inc. corporate and research offices are located in Charlotte, NC and Bremen, Germany. PAM's tools are used in a variety of industries including home construction and remodeling, cabinet and furniture assembly, manufactured housing and industrial packaging. The company also has a broad line of autofeed screw guns for the residential and commercial construction industries and frame assembly equipment and accessories for the framing and hobby industries. For more information, contact PAM Fastening at 2120 Gateway Blvd., Charlotte, NC 28208, telephone: 704-394-3141, fax: 704-394-9339, email: sales@pamfast.com. The company's corporate website address is www.pamfast.com.
Related