Double Insulated Grid Resistors offer power up to 24 kW.
Press Release Summary: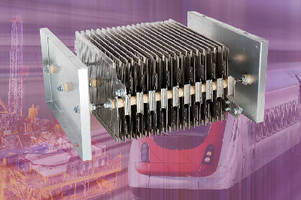 With power capability from 4–24 kW at +40°C, GRE2 Series is optimized for capacitor pre-charge and discharge, dynamic braking, load testing, and neutral grounding applications in locomotives/transit systems, harmonic filters, and renewable energy systems. Devices offer resistance range from 0.25–50 Ω, with tolerance of ±10% and inductance from 10–40 µH. Featuring welded construction with stainless steel plate element, ceramic insulators, and multiple taps, GRE2 series operates up to 400°C.
---
Original Press Release:

New Vishay Intertechnology Grid Resistors Combine High Power Ratings to 24 kW With Operating Temperatures to +400 °C



Devices Offer Robust Design With Welded Construction and Double Insulation for Maximum Reliability



MALVERN, Pa. – Vishay Intertechnology, Inc. (NYSE: VSH) today introduced a new series of high-power, high-current grid resistors. Offering designers a convenient drop-in replacement for competing solutions, Vishay Milwaukee GRE2 devices, a product line of Vishay Dale Resistors, combine high power ratings to 24 kW and high operating temperatures to +400 °C with a robust design.



With high power capability from 4 kW to 24 kW at +40 °C, the grid resistors released today are optimized for capacitor pre-charge and discharge, dynamic braking, load testing, heater, and neutral grounding applications in locomotives/transit systems, harmonic filters, renewable energy systems, and industrial systems. The devices feature a wide resistance range from 0.25 Ω to 50 Ω, with tolerance of ± 10 %, and low inductance from 10 µH to 40 µH.



Featuring a stainless steel plate element, ceramic insulators, and multiple taps, the GRE2 series provides high reliability with a welded construction and double insulation for maximum cooling efficiency. Offered in modular or custom designs, the RoHS-compliant industrial power resistors can be mounted in IP20 (indoor rated) and IP23 (outdoor rated) enclosures to offer the optimized level of protection for the application.



Samples and production quantities of the GRE2 series grid resistors are available now, with lead times of four weeks. Pricing for U.S. delivery only starts at $500 each.



Vishay Intertechnology, Inc., a Fortune 1000 Company listed on the NYSE (VSH), is one of the world's largest manufacturers of discrete semiconductors (diodes, MOSFETs, and infrared optoelectronics) and passive electronic components (resistors, inductors, and capacitors). These components are used in virtually all types of electronic devices and equipment, in the industrial, computing, automotive, consumer, telecommunications, military, aerospace, power supplies, and medical markets. Vishay's product innovations, successful acquisition strategy, and "one-stop shop" service have made it a global industry leader. Vishay can be found on the Internet at www.vishay.com.



http://www.vishay.com/doc?31833 (GRE1, GRE2)



Vishay Contact:

Andrew Post

Senior Manager,

Global Communications

Vishay Intertechnology, Inc.

Telephone: 1 610 251-5287

Fax: 1 610 889-9429

Email: andrew.post@vishay.com



Follow Vishay:

http://twitter.com/vishayindust   

http://www.facebook.com/VishayIntertechnology

More from Software