Double-Deck Screener meets needs of sanitary applications.
Press Release Summary: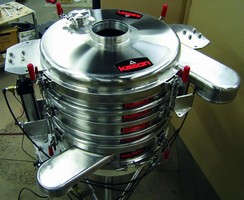 Compliant with cGMP, 3-A, USDA, and FDA standards, Vibroscreen® Ultra-Sanitary Double-Deck Screener is designed for scalping, de-dusting, and dewatering of contamination-sensitive materials. Controls, housed in lockable panel, can interface with PLCs for remote operation. In addition to gap-free screen frames, quick-release U-clamps, and radius corners, machine features domed lid, Air-Lift device, continuous ground and polished welds, gap-free interior, and washable underside.
---
Original Press Release:

New Vibroscreen Ultra-Sanitary Double-Deck Screener



MILLBURN, NJ-A new Vibroscreen® Ultra-Sanitary Double-Deck Screener from Kason Corporation for scalping, de-dusting and dewatering of contamination-sensitive materials meets cGMP, 3-A, USDA and FDA standards. The unit features gap-free screen frames, quick-release "U" clamps, radius corners, a domed lid, an Air-Lift device to raise the frames, continuous ground and polished welds, a gap-free and crevice-free interior and a washable underside.

The external, interlocking flange configuration of the screen frame fully envelops the support ring of the screen, allowing the screen's wire mesh to extend to the interior walls of the frame. The design eliminates the gap between the screen ring and frame wall of conventional screeners, eliminating areas where material would otherwise collect.

The new screener dramatically reduces the possibility of contamination due to bacteria growth, while improving sanitizing efficiency, making it suitable for pharmaceutical, food and dairy applications, as well as chemical applications where cross-contamination is a concern, according to the company.

Screens are mounted to support rings using FDA-approved epoxy and sealed using FDA-approved gasket material, and can be provided with a mesh-tolerance certificate. The wire mesh screening material is offered in 304, 316 and "magnetic" 400-series stainless steel that, if broken, can be captured by a downstream magnet.

Adding to the unit's cleanliness are a domed lid, discharge spouts with radius corners, continuous weld seams and material contact surfaces polished to a sanitary finish, and a 3-post, open base with stainless steel motor enclosure allowing thorough wash down of the unit's underside and plant floor.

The screener can be equipped with a Clean-In-Place (CIP) spray wash system and designed to operate under a blanket of an inert gas.

The screener is also equipped with the company's "Air-Lift" system, allowing rapid access to the upper and lower screening chambers for cleaning, inspection and/or screen changes. The U-shaped quick-disconnect vertical clamps are lockable and allow disengagement of upper and lower screen frame sections significantly faster than with conventional band clamps, reducing downtime and allowing one operator to perform what was previously a two-person task, depending on screen diameter.

Controls are housed in a lockable panel and can interface with existing PLCs for remote control.

The company manufactures a broad range of circular vibratory screeners, centrifugal screeners, and circular fluid bed dryers, coolers and moisturizers.

For information contact Kason Corporation, 67-71 East Willow St., Millburn, NJ 07041, 973-467-8140, info@kason.com, www.kason.com

More from Electronic Components & Devices