Double-Block-and-Bleed Manifold operates up to 15,000 psi.
Press Release Summary: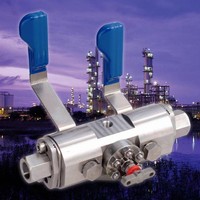 Featuring 3/8 in. bore, Hi-Pro integrates 2 ball valves for isolation and 1 needle valve for venting. Unit is supplied with MPI tubing ends that operate using compression sealing technique and are inherently vibration resistant. End connections are secured by means of Tru-Loc mechanism to guard against connector movement when disconnecting connectors or instrument. Valves are integrated within 316 SS one-piece body, minimizing potential leak paths.
---
Original Press Release:

Novel Manifold Sets New Standard for High-Pressure Instrumentation



o integrated double-block-and-bleed manifold operates up to 15,000 PSI
o saves space, eliminates leak paths compared with assemblies of discrete components

Huntsville, AL and Barnstaple, UK, August 17, 2007 --- Parker Instrumentation has launched a 3/8 inch (10 mm) bore double block and bleed manifold that will operate at up to 15,000 PSI (1,034 bar) cold working pressure. At these elevated pressures, instrumentation engineers today typically build systems from discrete valve and tube fitting components. Compared with these, the innovative new Hi-Pro 15KSI DBB manifold saves a great deal of space and weight, and greatly enhances integrity by eliminating numerous potential leak paths.

In addition, the Hi-Pro manifold is supplied as standard with threadless connections for tubing. At 15,000 PSI pressures, many instrumentation engineers currently employ 'cone and thread' style fittings for tubing connections. These components are time consuming to install (it can take 30 minutes or more for every joint to 'cone' and thread the tube end), and require an additional gland component if installed in environments subject to vibration.

Parker Instrumentation's manifold is supplied as standard with 15,000 PSI-rated MPI tubing ends that operate using the industry-standard compression sealing technique. These assemble in seconds by simply tightening a nut, and are inherently vibration resistant. MPI tube end sizes from 3/8 to 3/4 inch (9.5 to 19 mm) may be specified. The end connections are secured by means of Parker's proprietary Tru-Loc mechanism, to guard against any connector movement when disconnecting connectors or instrument. Optionally, NPT-compatible male or female ends are available.

The Hi-Pro manifold integrates two ball valves for isolation, and one needle valve for venting, providing a standard 'double block and bleed' configuration for interfacing instruments such as a pressure or temperature transmitters. The valves are integrated within a 316 stainless steel one-piece body measuring just 9.31 inch (23.6 cm) in length for the version with MPI tube ends. The one-piece body greatly reduces the number of potential leak paths compared with manifolds assembled using discrete valves and fittings. The manifold also eliminates threaded connections, which can be a source of problems in the field due to contamination resulting from the use of thread sealants.

The new integrated high-pressure manifold has been made possible by a new sealing material for the valve seats known as PHlex. This material additionally allows the manifold to meet the fire safe requirements of API 607 and BS6755 Part 2.

Among the application sectors that can benefit from this innovation are deepwater oil and gas drilling and methanol injection equipment, and industrial laboratories where products are developed and tested under extreme conditions.

One further benefit of the use of compression tube fitting ends is the ability to save weight and cost by using thinner wall tubing, as the thicker wall sizes typically required for threaded tube connections is not necessary. http://www.parker.com/ipd

Parker Instrumentation, Riverside Road, Barnstaple EX31 1NP, UK
Tel: +44 (0)1271 313131; ipd@parker.com

Parker Instrumentation Products Division, 1005 A Cleaner Way, Huntsville, Alabama 35805-6708, USA. Tel: 256 881-2040; ipdsales@parker.com

More from Sensors, Monitors & Transducers