Double Beam UV-Vis Spectrophotometers suit various applications.
Press Release Summary: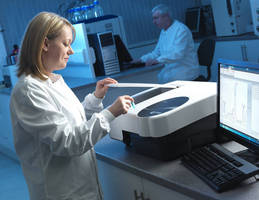 Featuring color touchscreens and USB data ports, Biochrom Libra instruments, offered in 4 versions, can be tailored to meet specific requirements of wide range of academic, research, or industry applications. Offered in standalone and PC controlled variations, devices offer optional integrated Bluetooth for data transfer and optional built in printer. Range of optional accessories completes application-specific flexibility of this range.
---
Original Press Release:

New Double Beam Biochrom Libra Brings High Performance UV-Vis Spectrophotometry into Range



Affordable UV-Vis spectroscopy to suit your application needs

Cambridge, UK: Global scientific instrument manufacturer Biochrom now offers high performance, double beam and variable bandwidth UV-Vis spectrophotometers as part of the popular Biochrom Libra range. Application-led design with colour touch screens and USB data port means each new Biochrom Libra instrument can be tailored to meet the specific requirements of a wide range of academic, research, or industry applications.

Now available through the company's international network of sales organisations and specialist distributors, the new range includes: the Biochrom Libra S50, a robust, split beam workhorse; the Biochrom Libra S60, a multi-user, double beam spectrophotometer; the Biochrom Libra S70, a 1 nm bandwidth double beam system ideal for routine pharmaceutical applications; and, the Biochrom Libra S80, a high performance variable bandwidth double beam instrument that meets both the regulatory and budget-conscious demands of even the most tightly controlled laboratory.

Biochrom Libra includes powerful application-based software for all stand-alone and PC controlled instruments. Stand-alone instruments feature a full suite of standard applications including single wavelength, wavelength scanning, standard curves, kinetics and life science protocols. Data can be stored on the instrument or USB drive and manipulated post run using the Trace Manager function. Biochrom's new Equation Editor allows users to programme specific methods that include calculations based on measured data.

A groundbreaking modular PC package - Resolution - provides the ultimate flexibility in control and data handling. 'Quick Read' and 'Quick Scan' options make routine operation fast and straightforward whilst a powerful Method Developer allows complex scanning, kinetic and quantitative protocols to be created and run. System qualification, pharmacopeia requirements and FDA 21 CFR Part 11 compliance are all supported.

Biochrom Libra hardware innovations include a large colour touch screen, USB connection, optional integrated Bluetooth for data transfer and an optional built in printer. A growing range of optional accessories completes the application-specific flexibility of this range. A new web-based navigation tool
(www.biochrom.co.uk/select-a-spectrophotometer/) is available to help guide purchasers towards the optimum system for their specific needs.

For further information about the new instruments in the Biochrom Libra range, please visit: www.biochrom.co.uk.

About Biochrom

Based on the Cambridge (UK) Science Park, Biochrom is a leading global manufacturer with more than 40 years of experience producing high quality scientific instrumentation. Trusted by customers in hospitals and laboratories worldwide, the company is also a valued OEM partner to many of the world's finest scientific instrumentation companies.

The famous Biochrom 30 is the leading dedicated Amino Acid Analyzer, while the company's UV/Vis spectroscopy portfolio includes Biochrom Libra spectrophotometers for industrial and environmental laboratories, Biochrom WPA colorimeters and spectrophotometers for education and the life sciences. The Biochrom Group also features two major brands in the microplate instrumentation market - Biochrom Asys and Biochrom Anthos.

All Biochrom products are available worldwide, both directly and through a growing network of committed independent distributors.

Biochrom is a Harvard Bioscience Company.

For more information, please visit: www.biochrom.co.uk or www.biochrom-us.com

For sales and technical information, please contact:

enquiries@biochrom.co.uk

sales@biochrom-us.com

More from Software