Double and Triple Cut Hobs Rough or Finish Very Large Gears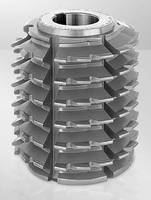 Hoffman Estates, IL - Get quality PWS large coarse pitch hobs with engineering and product support from Star SU LLC. Perfect for hobbing wind turbine gears, these hobs come in a variety of materials and coatings and ground forms up to DIN AAA quality. Hob sizes range from 20 (1.25 DP) to 40 (0.635 DP) module and lengths up to 430 mm (16.9"). CNC inspection reports as well as resharpening and recoating services are available.

To request a quote or speak with gear tool product manager Tom Ware, please call Star SU LLC at 248-442-3123 or email him at tware@star-su.com.

Star SU LLC is the go-to-market cooperative of the partnered companies of Bourn & Koch, Star Cut Sales, and SU America (a unit of Samputensili S.p.A). All sales, sales engineering, sales & marketing administration, direct sales force human resources, sales Information Technology, and sales distribution for North America are merged into a single enterprise managed by an executive committee made up of the senior management of the (3) companies. Learn more at www.star-su.com.


More from Machinery & Machining Tools