Dorner's Slave Drive Option Saves Customer Money by Powering Two Conveyors with One Gear Motor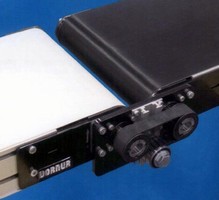 HARTLAND, Wis., (June 19, 2006) - When a customer's application recently called for fabricated parts to pass through a heat treatment, and do so with a gear motor driving two conveyors, Dorner's slave drive option turned out to be the perfect answer.

A slave drive option allows one gear motor to drive two separate conveyors by connecting the spindles of two facing conveyors together. When the gear motor drives the first conveyor, the slave drive option then turns the spindle of the second conveyor, moving it at the same speed as the first conveyor. A slave drive option often saves customers money because, since it can drive multiple conveyors, fewer gear motors need to be used in the conveyor system's operation.

This particular application called for a combination of two 2200 Series conveyors to move parts for the automotive industry through the heat treatment. A slave drive option worked well because the normal location of a gear motor on the second conveyor could have been damaged due to its close proximity to the heat treatment.

Building a conveyor system with a slave drive option is part of Dorner's Engineer Specials Program. ESP is a program that pays extra attention to building conveyors with unique dimensions and characteristics above and beyond the dimensions of Dorner's regular conveyor platforms. Instead of trying to build a conveyor in-house from scratch to make it fit, the customer saved time and money by having people who are conveyor experts, such as the team on Dorner's ESP program, handle the project.

Hartland, Wisconsin-based Dorner Manufacturing is a world leader in the design, manufacture and distribution of high-quality conveyors and related equipment. Since 1973, companies from around the world have turned to Dorner conveyors for greatly improved efficiency and productivity. For more information about products or company news, visit Dorner's Web site at www.Dorner.com or call 1-800-397-8664.

More from Computer Hardware & Peripherals