Door Style Keypads are available with EZ programming.
Press Release Summary: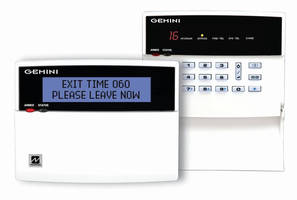 DK series of custom alphanumeric door style keypads include GEM-DK1CA and GEM-DK3DGTL digital models. Model GEM-DK1CA has built in 4-zone expander, 3 built in panic buttons and identical usage and programming to GEM-K1CAe2. Model GEM-DK3DGTL offers EZ programming and programmable panic keys, i.e., fire, police and auxiliary. It features 7-segment digital display keypad, stay/away buttons for easy one button arm, and instant keys with GEMRP2ASe2.
---
Original Press Release:

Meet Napco's New Style Gemini Door Keypads



Napco Security Systems has released its new door style keypads in custom alphanumeric with EZ programming and digital models. Our DK series come with all of the Gemini features and identical programming consumers are used to. For a cleaner more minimalist look, our DK series feature a new flip-down door for those who prefer concealed keys.

GEM-DK1CA new door style with EZ programming comes in contemporary black and white styling and includes a door cover to prevent unwarranted use. A bright blue backlit custom LCD display, alphanumeric zone directory and blue backlit keys brighten to the touch and feature easy stay/away functionality. Built in 4-zone expander, 3 built in panic buttons and identical usage and programming to GEM-K1CAe2 makes operating that much easier. GEM-DK1CA supports GEM-P816, 1632, 3200, 9600, X255 and F64 and comes with a new look that helps dealers distinguish us from the competition.

The second new door style digital keypad model is our GEM-DK3DGTL. Like its counterpart, it offers customers EZ programming and programmable panic keys, i.e., fire, police and auxiliary. GEM-DK3DGTL features a vivid dual 7-segment digital display keypad, stay/away buttons for easy one button arm, "instant" (hold-down) with the GEMK2AS and instant keys with the GEMRP2ASe2. A clean white design, traditional interior and large soft touch backlit keys with tone grants aesthetic appeal. Backlit displays for easy reading and a signal strength indicator ensure that the wireless transmitter is functioning maximally at all times. GEM-DK3DGTL supports GEM-P816, 1632, 3200, 9600, X255 and F64. Call 1-800-645-9445 to speak to a customer service representative or visit www.napcosecurity.com to learn more about our new Gemini DK series.

About Napco Security Group
Napco Security Group (NASDAQ: NSSC) is a leading manufacturer of a wide array of security products, developing advanced technologies for intrusion, fire, video, wireless, access control and door locking systems. Headquartered in New York, and with offices in the United Kingdom, the Caribbean, and Dubai, its products are sold and installed by tens-of-thousands of security professionals worldwide, from security dealers to locksmiths, to systems integrators and specifiers, in commercial, industrial, institutional, residential and government applications.

David Saltzman
Marketing & Events Coordinator
Napco Security Systems, Inc.
333 Bayview Avenue
Amityville, NY 11701
631.842.9400 ext.169
dsaltzman@napcosecurity.com

More from Explosives, Armaments, and Weaponry