Donut Load Cell features USB output.
Press Release Summary: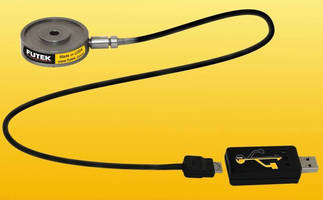 Eliminating need for analog amplifier, power supply, and display equipment, LTH300 Donut/Thru hole Load Cell integrates USB with software enabling users to monitor output of sensor in real-time. Unit measures 0.98 in. OD and 0.28 in. high and is constructed of 17-4 SS, with 10 ft long 29 AWG 4-conductor shielded Teflon® cable. It has nonlinearity of ±0.5%, deflection of 0.002 in. nominal, and operating temperature of -60 to +200°F and can output up to 1,000 lb.
---
Original Press Release:

Donut Load Cell with USB Option



Irvine, CA - February 2, 2009

Contact: John Vargas or John Schnell at info@futek.com

FUTEK Advanced Sensor Technology, Inc. (FUTEK) is now offering its LTH300 Donut/Thru hole Load Cell with a USB Output option. The new module eliminates the need for an analog amplifier, power supply, and display equipment making usage that much easier. The plug and play gives you power to monitor the output of the sensor and enjoy measurement without any worries about noise, temperature variation or power supply requirement. The USB integration also includes FUTEK's USB Software which allows users to monitor the output of the Sensor in real time. This particular model has a high capacity range relevant to the Load Cell's miniature size. Measuring 0.98" OD x 0.28" H, the LTH300 Donut Load Cell has capability of an output up to 1,000lbs.

FUTEK Model LTH300 is a Donut Load Cell often used in compression or press applications and is available in 5 different thru hole diameter options per capacity range. The standard LTH300 Donut Load Cell model has a very robust construction available in 17-4 Stainless Steel, with an I.D. range of 1/8" to 3/8" and a 10 feet long 29 AWG 4 conductor shielded Teflon cable. You will also find an option for external matched output readily available. Applications include bolt force measurements, clamping forces and monitoring overloads and force monitoring. The LTH300 may also be used in post or leg mount and rolling mill systems as it is reliable in tough industrial applications making this load cell versatile to different industries.

The Donut Load Cell offers high accuracy and high stiffness. It has Nonlinearity of ±0.5%, Deflection of 0.002" nominal and Operating temperature of -60° F to 200° F. The standard LTH300 Donut Load Cell can be modified or customized to meet your requirements and most capacities are in our inventory making them available for 24 hour shipping. Similar to our entire Load Cell product line this model is manufactured in USA and uses metal foil strain gauge technology.

Product Highlights:

Weight: 2 oz

Resistance to High Extraneous Loads

Low Deflection

17-4 Steel Construction

Compression

Utilizes Metal Foil Strain Gauge Technology Manufactured in the United States

More from Paints & Coatings