Don't Cry over Spilled Wine or Condiments or...Protect Concrete Floors from Staining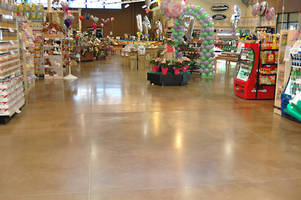 Stop floor stains before they start with Duro-Polish Plus. Food spills can quickly and permanently stain and etch concrete floors, making even high-dollar decorative concrete projects look unattractive. Protect floors from the first day of use with economical Duro-Polish Plus synthetic polymer floor polish. Duro-Polish Plus gives concrete floors long-lasting protection from some of the harshest food products commonly found in retail, grocery, restaurant and concession area environments, such as pickle relish, mustard, cooking oils, grape juice and wine.

A Duro-Polish Plus floor has an immediate, high gloss finish that doesn't need buffing. Duro-Polish Plus also adds slip resistance for additional safety and meets the static coefficient of friction requirements of ASTM D-2047. Duro-Polish Plus is Green Engineered(TM) - making it safer for people and the environment. For more information, visit www.nox-crete.com/duro-polish_plus.shtml or call Nox-Crete Products Group at (800) 669-2738.


More from Electrical Equipment & Systems