Dome Switches provide up to 2.5 million operations.
Press Release Summary: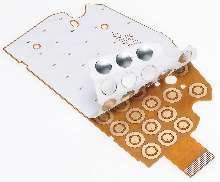 Four millimeter Dome Switches have Click Ratio of 45% ensuring positive feel with minimal noise. They are available separately, as arrays, or fully assembled as keypads with associated PCB and illumination. Units are suited for 3G and WAP cellular phones that include gaming option, which demands long operational life.
---
Original Press Release:

ITT Industries, Cannon More Than Doubles Life of Dome Switches


NEWTON, MA (July 29, 2003)-ITT Industries, Cannon has released a new 4mm diameter dome capable of up to 2.5 million operations, an increase that is especially advantageous for cellular phone manufacturers who are incorporating gaming functions into new generation handsets.

According to Bernd Steinebrunner, Product Director for Cannon's dome arrays, "Domes used in cell phones should typically only require a life cycle of 250-500K operations, so Cannon's one million lifecycle product is perfectly adequate for those applications. However, new technology 3G and WAP phones are commonly including a Games option on the menu, which demands a much longer operational life, which our new dome array provides."

The 2.5 million operational lifecycle domes have a Click Ratio of 45% ensuring good positive feel, with minimal noise. They are available separately, or the company can supply them as arrays, or fully assembled as keypads with associated PCBs and illumination, produced in its own ISO 900:2000 facilities.

Key to the performance of Cannon's long-life dome switches is the high quality materials used and the manufacturing test methodology employed. Steinebrunner comments, "At Cannon, we evaluate our processes and equipment under full operating conditions and environmental conditions. The nominal actuating trip force of 160g is exceeded during testing by nearly fourfold (600g) to ensure that devices withstand the robust demands of today's equipment makers."

Cannon provides a variety of components for cell phones, including dome arrays, keypads, switches and connectors.

About ITT Industries, Cannon
ITT Industries, Cannon (www.ittcannon.com) is an international supplier of connectors, interconnects, cable assemblies, switches, dome arrays, keypads, multi-function grips, panel switch assemblies, I/O card kits, smart card systems and LAN components, as well as a provider of high-speed/high-bandwidth network systems and services.

ITT Industries supplies advanced technology products and services in key markets including: electronic interconnects and switches; defense communication, opto-electronics, information technology and services; fluid and water management and other specialty products. Headquartered in White Plains, NY, the company generated $4.99 billion in 2002 sales. In addition to the New York Stock Exchange, ITT Industries stock is traded on the Midwest, Pacific, London, Paris and Frankfurt exchanges.


More from Computer Hardware & Peripherals