Dome Cameras offer video and data transmitter option.
Press Release Summary: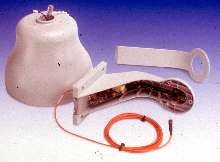 Kalatel Cyberdome(TM) cameras are offered with VT1500WDM video transmitter and data receiver, which mounts directly into systems, replacing power, data, and coaxial cable connection within arm. Transmitter changes camera from coaxial connection dome to direct to fiber connection and allows for simultaneous transmission of video and one-way control data over one multimode optical fiber. Transmitter supports distances of up to 1.8 miles without repeaters.
---
Original Press Release:

IFS Introduces Integrated Fiber Optic Video and Data Transmitter for Use in Kalatel Dome Cameras


New VT1500WDM Kalatel mounts directly in to a Kalatel Cyberdome(TM) to make any Cyberdome Fiber Optic Transmission Ready

NEWTOWN, CT. June 3, 2003-International Fiber Systems Incorporated (IFS), a leading manufacturer of fiber optic transmission equipment, has announced the introduction of its VT1500WDM Kalatel video transmitter and data receiver. The VTI500WDM Kalatel video transmitter and data receiver is designed for use in the Kalatel Cyberdome(TM) dome system providing a fully integrated solution. This unit mounts directly into the domes wall mount, replacing the traditional power, data and coaxial cable connection within the arm. The VT1500WDM Kalatel changes the Cyberdome(TM) camera from a standard coaxial connection dome to a direct to fiber connection. The optical output of the dome is compatible with the standard IFS VRI500WDM or VR150OWDM-CC receiver. The IFS VT1500WDM Kalatel allows for the simultaneous transmission of video and one-way control data over one multimode optical fiber. The unit supports the RS-422 data protocol that Kalatel utilizes for camera pan, tilt and zoom control. In addition, an added feature built into the VT1500WDM Kalatel is the addition of a contact closure input. Now an additional device such as a dome tamper switch or alarm event input can be added and its signal transmitted back to the monitoring location. This feature eliminates the need for additional wiring to support the alarm contact closure.

The VT1500WDM-Kalatel is designed for quick and easy installation into the Cyberdome(TM) arm and utilizes multimode optical fiber. In addition, the VT1500WDM-Kalatel transceiver is designed to be an integral part of the Cyberdome(TM) system, there are no external electrical connections, the fiber module requires no external power source and no additional hardware at the camera site. According to Nhu Dang, IFS Product Manager, Installing the VT1500WDM Kalatel is incredibly easy. Simply remove the Cyberdome(TM) wall mount access cover, remove the supplied connection board and replace it with the VT1500WDM Kalatel. Attach the fiber optic ST connector and reconnect the power and reinstall the cover and attach the dome."

The benefit to using optical fiber is to eliminate ground loops while offering a secure medium that is virtually impossible to tap into. It also offers superior signal transmission even in environments that are subject to hostile Electromagnetic Interference (EMI) or Radio Frequency Interference (RFI).

"With more installations utilizing a fiber optic backbone, many consultants are specifying equipment that is fiber ready. We're very excited to add Kalatel to the growing list of companies that IFS offers direct to optical fiber interfaces for," said Richard Malstrom, Vice President of Sales at IFS. "We believe that more and more camera and access control product manufactures recognize the benefits of signal transmission over optical fiber and will offer direct to fiber interfaces in the future. We at IFS are ready to assist any or all that would like to take advantage of our expertise in fiber optic technology and product development," said Malstrom

The VT1500WDM Kalatel is designed for ease of use and to be maintenance free. These modules will operate in extreme climates and have an operating temperature range of -40°C to 74°C. The unit can support distances of up to 1.8 miles (3 km) without repeaters.

About International Fiber Systems
Part of GE Interlogix, Inc., IFS is at the forefront of advances in fiber optic technologies. The company offers more than 300 analog and digital fiber optic products for commercial and industrial applications, which include CCTV, access control, data transmission, fire and alarm system applications, intelligent transportation systems, facility and building automation, and broadcast systems.

For more information, please contact Richard Malstrom at 203.426.1180; or e-mail IFS at sales@ifs.com. You may also find IFS on the World Wide Web at www.ifs.com. Electronic files of this release and photos of these products are available by contacting the IFS Marketing Department via e-mail at skiph@ifs.com.

About GE Interlogix, Inc.
GE Interlogix, part of GE Industrial Systems, is a wholly owned subsidiary of the General Electric Company (NYSE: GE) focused on communication and information technologies for security, safety and lifestyle enhancements. GE Interlogix has operations in more than 30 countries and is represented by some of the best-known brand names for intrusion and fire detection, access and building control, video surveillance, explosive and drug detection, key management and structured wiring. For more information about GE. Interlogix, please visit GE-lnterlogix.com.

IFS and the IFS logo are registered trademarks of International Fiber Systems, Incorporated. Additional company and product names may be trademarks or registered trademarks of the individual companies and are respectfully acknowledged.

More from Packaging Products & Equipment