Dolomite's 3D Printer for Microfluidic Prototyping to be Demonstrated at MD&M West 2018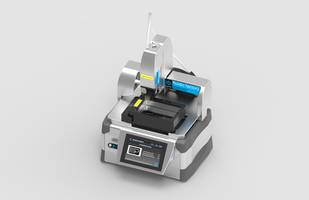 Fluidic Factory System Will Run at TOPAS Advanced Polymers' Booth 666
FLORENCE, Ky., February 1, 2018 – Dolomite, a world leader in microfluidics innovation, has unveiled its unique Fluidic Factory, the first commercially available 3D printer for sealed microfluidic devices, which utilizes cyclic olefin copolymer (COC) from TOPAS Advanced Polymers. The 3D fluidic printer will be demonstrated at Medical Design & Manufacturing (MD&M) West 2018 (Booth #666), which runs Feb. 6-8, in Anaheim, Calif.
"We gave careful consideration to a range of materials for our breakthrough 3D fluidics printer and selected TOPAS COC due to the unique properties and benefits it offers over other polymers, making it ideal for microfluidics in biology and medical environments," said Dr. Omar Jina, Dolomite's Chief Commercial Officer. "It is the polymer most frequently requested by biologists and has won acceptance in the microfluidics industry."
The Fluidic Factory is designed for ultimate ease of use, enabling rapid prototyping of fluidically-sealed devices such as chips, sensor cartridges, fluid manifolds, valves, connectors, and medical devices. The 3D printer is designed for use with TOPAS 8007S-04, a standard injection molding grade for high-performance medical and optical applications. TOPAS COC is recognized as the industry standard in microfluidics and diagnostics because of its clarity, purity, superior chemical resistance, and UV transparency, according to Timothy Kneale, president of TOPAS Advanced Polymers.
The first commercially available 3D printer for fluidically-sealed devices offers rapid, easy, and reliable printing of microfluidic devices at an economical cost, according to Dolomite Microfluidics. The Fluidic Factory features intelligent software and innovative hardware which ensures reliable sealing of fluidic paths, allowing the creation of precise channel geometries and various features not possible using etching, embossing, molding, or machining techniques.
Users can choose a design from the selection in the Fluidic Factory's Design Library, or create and print their own unique device using virtually any CAD software. With this complete design flexibility, the Fluidic Factory is ideal for a wide range of applications, including organ-on-a-chip, point-of-care diagnostics, drug development, education, chemical synthesis, and analytical and biomedical assays.
With the exceptional (92%) clarity and mold detail of TOPAS COC, well counts are maximized, flow channels can be incorporated, and analyses are optimized. Due to its ultra-high purity, TOPAS COC has lower leachables and extractables than competing materials, resulting in the most reliable and repeatable results. The inert nature of the material prevents interference with reactions and analyses. Other important features include the best available UV transparency of any plastic and low autofluorescence. By utilizing TOPAS 8007S-04, manufacturers can prototype and start small-scale production with the Fluidic Factory, and seamlessly ramp up to commercial-scale injection molding without changing plastic materials. The lightweight unit is compact and quiet and ideal for benchtop or desktop use. The Fluidic Factory will run continuously at MD&M West, producing a variety of microfluidic demonstration parts.
About Dolomite
Dolomite is the world leader in design and manufacture of microfluidic products. Since its founding in 2005, Dolomite has grown each year and now has many thousands of customers in over 50 countries. Customers include a wide range of major academic institutes, biotech firms, start-ups, pharmaceutical companies, manufacturers, petrochemical companies, government institutes, and virtually any company or organization involved in the sciences. For more information, visit www.dolomite-microfluidics.com.
About TOPAS Advanced Polymers
TOPAS Advanced Polymers is the world's leading maker of cyclic olefin copolymer (COC), a glass-clear and incredibly pure plastic for healthcare, packaging, and electronics applications. From insulin delivery, to food contact films, to mobile device displays and antennas, TOPAS COC is the high-performance material of choice. The broad global regulatory compliance of TOPAS COC can make your next development a simpler task. Learn more at www.topas.com.
More from Electrical Equipment & Systems