Dock Shelter eliminates 90% of air draft.
Press Release Summary: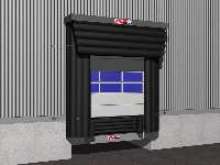 Four-sided Type A-TAD-U minimizes drafts at loading bay, even when doors are open with truck at loading dock and dockleveler lying on truck. Unit helps achieve high insulating efficiency, saving energy and keeping employees comfortable.
---
Original Press Release:
Dock Shelter Makes Truck Loading Bay Draught-Free

An air-draught-free loading zone required! Especially while the doors are open, a truck stands at the loading dock and the dockleveller lies on the truck it comes to air draught.

For when a draught-free truck loading zone is required - especially while the doors are open - ideally to protect the employees and reduce the loss of energy, Nani has developed the four-sided dockshelter type A-TAD-U.

With this solution you eliminate upto 90% of the air draught.
The employees do not have to put up with discomfort any more and you save enormously the costs of energy.

You achieve excellent draught sealing-benefits and reach a very high insulating-efficiency.

Because of that you get excellent results with this kind of dockshelter in temperature-controlled storages.

The german loading bay specialist provided for examlpe OPEL in Rüsselsheim with its new dockshelter.
More from Cleaning Products & Equipment