Dock Lifts are available in 5,000/6,000 lb capacities.
Press Release Summary: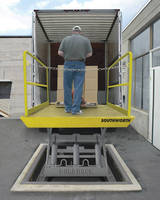 Featuring corrosion-resistant, galvanized base and legs as standard, Dura-Dock(TM) Series of loading-dock lifts transfer loads safely from any truck bed to any dock height, and vice versa, without ramps or inclines. They work from grade level to max height of 59 in. Platform sizes range from 6 x 8 ft to 8 x 12 ft. Product includes weatherproof pushbutton NEMA-4X control with 20 ft of coiled cord, and diamond-tread, steel platform with beveled toe-guards painted yellow for safety.
---
Original Press Release:

New Dock Lifts Feature Galvanized Construction for Longer Service Life



PORTLAND, ME - Dura-Dock(TM) Series loading-dock lifts from Southworth Products transfer loads quickly and safely from any truck bed to any dock height, and vice versa, without ramps or inclines. Available in 5,000 lbs. and 6,000 lbs. capacities, Dura-Dock lifts feature corrosion-resistant, galvanized base and legs as standard. For higher capacities (up to 20,000 lbs.) galvanized construction is optional. All Southworth dock lifts work from grade level to a maximum height of 59 inches.

Southworth dock lifts save time and effort at retail outlets, manufacturing plants, warehouses, medical or educational facilities, and other establishments loading goods into or accepting deliveries from more than one type of truck. A lift can be installed to accommodate any dock or loading configuration, whether the truck is parked perpendicular or parallel to the dock. Usually mounted in a concrete pit so the unit's lowered platform is at grade level, the lift is even more useful if the location lacks a dock altogether. A drain in the base of the lift prevents standing water if the unit is installed outdoors.

Platform sizes range from 6 x 8 feet to 8 x 12 feet. Lower-capacity models are designed to support loaded hand pallet trucks, while the higher-capacity models support loaded forklifts. Standard features include a weatherproof pushbutton NEMA-4X control with 20 feet of coiled cord; a diamond-tread, steel platform with beveled toe-guards painted yellow for safety; removable steel handrails with mid-rails and 4-inch-high kickplates; a hinged, diamond-tread throw-over plate at one end of the platform and a snap chain at the other end; hardened steel pins operating in self-lubricated bearings at all pivot points; adjustable yet uniform lowering speed with a pressure-compensated flow-control valve; and excess flow protection for controlled descent in the unlikely event of hydraulic line rupture. All Southworth dock lifts meet or exceed ANSI Standard MH29.1, Safety Requirements for Industrial Scissors Lifts.

Southworth Products Corp

P.O. Box 1380

Portland, ME 04104-1380

Contact:
Brian E. McNamara,
President

TEL: (207) 878-0700,
FAX: (207) 797-4734

E-mail: salesinfo@southworthproducts.com

More from Machinery & Machining Tools