Do-It-Yourself Stainless Steel Exhaust Tubing from Classic Tube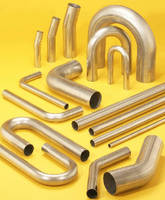 Lancaster, NY: When dealing with custom automotive exhaust system projects for street rods, race cars, etc., it's usually necessary to fabricate the parts you need. To assist you, CLASSIC TUBE stocks a full line of Stainless Steel exhaust tubing parts, available in individual pieces to fit your needs. Straight tubing lengths are sold by the foot up to 20-feet. Available bends include 15-degree, 45-degree, 90-degree and 180-degree J-bends (one leg longer) and 180-degree U-bends. The tubing can be ordered in 2.5-inch, 3-inch or 3.5-inch diameters.

These parts are 16-gauge (.065) tubes made from high-quality 304 Stainless Steel, which incorporates excellent durability with incredible resistance to the corrosive agents found in exhaust gases. Special straight lengths are available in ¾ to 5-inch OD, depending on the angle and various leg lengths. For a show quality appearance, these tubes can be polished to a high luster by the end user.

CLASSIC TUBE also has pre-bent stock replacement tubing for fuel, brake, vacuum, transmission and hydraulic applications, as well as light and heavy-duty industrial applications. Stainless Steel braided brake hoses are available for brake system upgrades. Preview all their stock replacement and custom tubing applications at www.classictube.com.

For additional information contact CLASSIC TUBE, 80 Rotech Drive, Lancaster, NY 14086, Ph. 800-882-3711, Fax: 716-759-1014.

More from Materials