DMP Virtual Keypad Access™ Expands Commercial Video Capabilities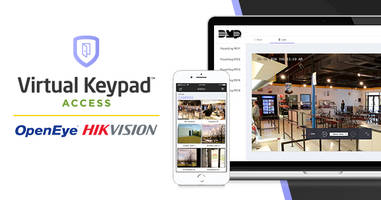 LAS VEGAS — Sept. 23, 2018 — Digital Monitoring Products (DMP) is excited to announce integrations with two leading suppliers of video surveillance solutions! Now you can use OpenEye® and Hikvision® as commercial video options with any DMP system with the Virtual Keypad™ app or browser.
"This gives your customers the ability to view their Hikvision and OpenEye NVR cameras, all through Virtual Keypad Access or the Virtual Keypad app," says Mark Hillenburg, executive director of Marketing for DMP. "Both of these companies are leading providers of locally recorded video solutions and will allow you to deliver greater value to your customers."
Earlier this year, OpenEye integrated with DMP XR Series™ intrusion and access control panels that enabled panel events to be sent to OpenEye's network-based video platforms. "OpenEye has proven to be a great partner to work with," Hillenburg adds. "We're looking forward to working with both companies going forward. Dealers should look for more announcements on additional video capabilities coming soon."
The integration of these recorded video options into the Virtual Keypad app or browser is a giant leap for dealers who want to offer all their solutions — intrusion, access control, and now fully featured video using some of the industry's best video solutions, all in a single user interface. The current SecureCom Video™ cameras and their 20-second clips are great for small commercial and residential options. Now, larger customers can add dozens of cameras or NVRs into their systems with no extra cost.
Hikvision is the world's largest manufacturer of video surveillance products and solutions. North America is a rapidly growing region for Hikvision, employing nearly 400 professionals located in markets across the U.S. and Canada. Offices are located in City of Industry, Calif. and Montreal, Canada, with additional facilities in Miami. Hikvision has established a Research and Development Centre in Montreal, Canada and a Research Institute in the Silicon Valley in California. For additional product or company information, go to https://us.hikvision.com/en.
OpenEye is an innovator in the design and development of Cloud-centric software solutions for video management, business intelligence, and loss prevention. All OpenEye Web Services platform software is developed in Liberty Lake, Wash., and many of OpenEye's products are made in America. For additional product or company information, go to openeye.net.
DMP is a privately held, independent manufacturer of innovative intrusion, fire, access control, network and cellular communication products designed, engineered, and manufactured in Springfield, Mo., using U.S. and global components. DMP is the recognized leader in alarm communication over data networks, with products that are available through professional electronic security companies. For more information, contact Mark Hillenburg at MHillenburg@DMP.com or visit DMP.com.
2500 N. Partnership, Springfield, MO 65803
Contact: Mark Hillenburg
800-641-4282
MHillenburg@DMP.com
More from Mechanical Power Transmission