DMP Presents V-4408D Network Video Recorder That Offers 2 TB of Storage
Press Release Summary: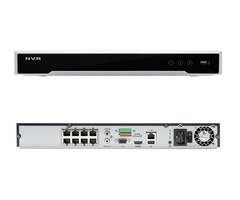 The SecureCom's V-4408D Network Video Recorder comes with EASYconnectVPN™ private firmware. The product can be used with DMP system and enables user to view video surveillance 24/7 from computer monitors or Apple TV® app. The two NVRs can be stacked for maximum of 16 cameras on any virtual keypad account. It enables user to access video from Virtual Keypad app or browser.
---
Original Press Release:
8 Channel 2 TB NVR Now Shipping
SPRINGFIELD, MO — Dec. 18, 2018 - This week, we're pleased to announce the addition of SecureCom Video's V-4408D NVR. Supporting any SecureCom Video™ or ONVIF® compatible camera, this powerful unit is designed exactly to DMP alarm system specifications and can be purchased directly through DMP. It features EASYconnectVPN™, the private firmware exclusively for SecureCom Wireless™ and DMP®.
To meet your customers' video surveillance needs, the V-4408D delivers 2 terabytes (TB) of storage, although the V-4408D has the capacity to expand up to 12 TB. The powerful new NVR is affordably priced, and you can stack two of them for a maximum of 16 cameras on any Virtual Keypad account.
The V-4408D can be used with any DMP system and allows users to view their video surveillance 24/7 locally from their computer monitors or Apple TV® app. They can access that video from their Virtual Keypad app or browser. With Virtual Keypad, in fact, your customers can combine dozens of different cameras and up to two of these NVRs into their systems and manage them all with one app.
To review the expanded commercial video options, go to DMP.com/Video.
About DMP:
DMP is a privately held, independent manufacturer of innovative intrusion, fire, access control, network and cellular communication products designed, engineered, and manufactured in Springfield, Mo., using U.S. and global components. DMP is the recognized leader in alarm communication over data networks, with products that are available through professional electronic security companies. For more information, contact Mark Hillenburg at MHillenburg@DMP.com or visit DMP.com.
Contact:
2500 N. Partnership, Springfield, MO 65803
Contact: Mark Hillenburg
800-641-4282
More from Electrical Equipment & Systems