DMP Offers XTLtouch Security Panel with Intuitive 5 in. Graphic Touchscreen Keypad
Press Release Summary: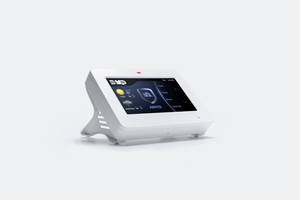 The XTLtouch™ Security Panel comes with built-in entry check-in protection that sends the trouble signal immediately to the monitoring center. The unit supports up to seven wireless keypads. They feature 99 zones of 900 MHz Two-Way Wireless, Z-Wave Plus support and built-in Wi-Fi and LTE communications. The panels enable customer to control lights, locks and thermostats and add video integration with multiple options and controls via Virtual Keypad app.
---
Original Press Release:
DMP Unveils XTLtouch™ Enhanced All-in-One Solution
SPRINGFIELD, MO — Sept. 19, 2018 — Digital Monitoring Products (DMP) is excited to announce today the launch of its new XTLtouch security panel. Unlike any other DMP security system, the XTLtouch is an enhanced all-in-one, combining DMP's elegant, intuitive 5-inch graphic touchscreen keypad with the popular XTLplus™.
"The XTLtouch represents the natural extension of our proven XT and XTLplus™ security technology," says DMP Vice President of Sales Mark NeSmith. "Our XTLplus set the standard for security, fast installations, and ease of operation. We're taking that technology and designing an enhanced all-in-one system."
Unlike any other all-in-one, the XTLtouch incorporates multiple enhancements, he adds. For instance, it has an external 110db wireless siren that can be placed anywhere.
"The first thing an intruder might do is try to disable the sound maker. But with the XTLtouch, since the siren won't be coming from the main panel, it's not alerting the intruder to where the main system is; therefore, it's more secure."
To ensure the best coverage across the premises, DMP offers the option of installing up to eight wireless sirens. Placing the sirens away from the keypad also alleviates stress for the end user who's disarming the system. "If there's a siren blasting in your ear, and you're trying to disarm your panel, it's nearly impossible to think. This takes away that stress."
Entry Check-In Protection
If the system isn't disarmed in the designated delay timeframe, the XTLtouch's built-in Entry Check-In Protection guarantees that the trouble signal is sent to the monitoring center immediately. In the event of an attack, this is a proactive safeguard against a burglar's fast tactic to disable the security system before it can send a signal.
"Entry Check-In Protection is based on the same reliable check-in technology that we've used for years, even for our high-security customers," NeSmith explains. "Our messages never go through a third-party NOC where they're retransmitted. They're sent to the monitoring center receiver directly."
It's a Win-Win for Installers and End Users
The XTLtouch also offers flexible installation options. This adds to the system's security and functionality. "If the best cell reception or wireless coverage is on the second floor, that's not a problem. You can put the XTLtouch wherever you need to and still add keypads exactly where your customer wants them."
The new XTLtouch can support up to seven additional wireless keypads, all with an identical user interface as the main unit. According to NeSmith, "With only one keypad format to learn, users don't get confused about the way their system functions operate."
Not only is it easy to operate, but the XTLtouch also installs quickly and easily. Options include table top, wall mount or in-wall installations. "That's part of delivering a complete security solution. These options ensure fast and easy installations while fitting the end user's preferences."
Compared to other all-in-one systems, the XTLtouch is one of the most compact. And yet, packed into that keypadsized alarm panel are the same high-security features that commercial and residential customers have come to expect from DMP: 99 zones of 900 MHz Two-Way Wireless, built-in Wi-Fi and LTE communication, as well as Z-Wave Plus support, all included in the base unit.
Powerful Features for Consumers
The XTLtouch also includes all the system automation features that consumers crave, giving them the ability to control lights, locks, and thermostats as they come and go or use the new Custom Actions programming to automate up to 20 different user programmable scripts. Consumers can add video integration with multiple options and control it all from the Virtual Keypad app or VirtualKeypad.com browser.
"We're very excited about the XTLtouch — no other all-in-one offers this kind of powerful and flexible solution," NeSmith concludes. "Plus, it's competitively priced. We believe it's going to allow us to more aggressively compete in the residential and small commercial markets."
To learn more about DMP's new XTLtouch, visit DMP.com/XTLtouch. You can also contact InsideSales@DMP.com, call 877-757-4367, or contact your DMP Dealer Development Manager.
About DMP
DMP is a privately held, independent manufacturer of innovative intrusion, fire, access control, network and cellular communication products designed, engineered, and manufactured in Springfield, Mo., using U.S. and global components. DMP is the recognized leader in alarm communication over data networks, with products that are available through professional electronic security companies. For more information, contact Mark Hillenburg at MHillenburg@DMP.com or visit DMP.com.
2500 N. Partnership, Springfield, MO 65803
Contact: Mark Hillenburg
800-641-4282
MHillenburg@DMP.com
More from Electrical Equipment & Systems