DMP Announces FirstNet® Alarm Communication Radios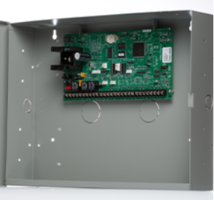 Making DMP XR Series Panels the First to be Available to Use FirstNet
SPRINGFIELD, MO — March 9, 2020 - This spring, DMP is releasing a line of FirstNet certified and compatible alarm communication radios that will work directly with AT&T FirstNet. With the new communicator, DMP XR and XT Series panels are the first to be available for use on FirstNet.
FirstNet is the nationwide wireless public safety broadband network that has been established by the Federal Communications Commission, which hired AT&T to deploy it with $40 billion of planned investment. Previously, first responders across the country have relied on more than 10,000 separate land mobile radio networks, which oftentimes do not interoperate with one another. Creating the designated FirstNet band ensures emergency personnel will always have the reliable and highly secure connection they need for critical information in responding to incidents.
FirstNet gives public safety devices "first-in-line" access, even when there are thousands of other requests coming into the network. "With the network's First Priority on Band 14 and AT&T existing LTE, first responders are always on, always first in line," says Mark Hillenburg, vice president of Marketing at DMP.
All 50 states have adopted FirstNet to use as their public safety communications network. "It's the solution to the decades-long interoperability and communications challenges first responders have experienced," Hillenburg adds. "With FirstNet, our critical security infrastructure won't be impacted by a national emergency."
Benefits for the Alarm Industry
While FirstNet's priority is to support first responders, certified alarm companies will be allowed to send alarm signals over FirstNet. And, with DMP's 263FIRSTNET-AT&T communicator, the XR and XT Series panels will have the advantage of using the specialty 700 MHz band for alarm communications to central stations.
The 700 MHz signals penetrate buildings and walls much more easily and cover larger geographic areas. In addition, as part of AT&T's guarantee, users will have access to the cellular network over the next 25 years without a cellular sunset, according to AT&T. 
Eligibility to use FirstNet for the alarm industry is overseen by The Monitoring Association (TMA), which allows to apply for eligibility to use FirstNet services for alarm communications. DMP was among the first TMA certificate recipients.
"We are excited to be the first panel manufacturer to release FirstNet compatible alarm communicators," Hillenburg says. "The FirstNet network is an important step forward in our nationwide first responder infrastructure, and DMP is excited to work with TMA and AT&T to finally deliver priority alarm panel communication over FirstNet."
The use of FirstNet by the alarm industry would be for premises alarm units at government facilities, as well as businesses and homes to communicate alarm information through the network to participating central station alarm facilities. Typical signals would be burglar alarm, fire alarm, medical alarm signals and other related signals. For more information on becoming a certified FirstNet user, contact TMA at TMA.com or 703-242-4670.
About DMP: DMP is a privately held, independent manufacturer of innovative intrusion, fire, access control, network and cellular communication products designed, engineered, and manufactured in Springfield, Mo., using U.S. and global components. DMP is the recognized leader in alarm communication over data networks, with products that are available through professional electronic security companies. For more information, contact Mark Hillenburg at [email protected] or visit DMP.com.
Contact: Mark Hillenburg
800-641-4282 or [email protected]