DMP 7800 Graphic Touchscreen Keypad Wins Top Award at ESX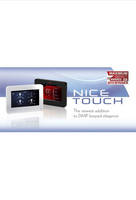 Recognized as best new access control/ID system: Keypads



DMP Springfield, MO – DMP took home the top award in the Keypads for the Access Control/ID System's category for its recently released 7800 Graphic Touchscreen Keypad. The award recognizes the business impact of a product or service rather than just its features and functions. The award was presented June 19 at the ESX Electronic Security Expo in Nashville.



"We are proud of every DMP technology innovation, but even more so to have our latest keypad receive this industry recognition," said Vice President of Sales, Mark NeSmith. "The 7800 is a remarkable keypad with features that both dealers and users really like. We are pleased that the industry recognizes that this keypad will truly have an impact in the market."



The 7800 brings the familiar feel of a graphical interface to security-system operation. It delivers all the popular features provided by traditional DMP keypads via an easy to use, intuitive keypad that blends with any décor. All system features and functions can be accessed via the carousel menu on the large, 5-inch full-color touchscreen.



And, dealers can offer this incredibly cost-effective keypad to customers with their dealer logo displayed on the main screen. The 4-wire, bus series, wired keypad includes a proximity reader for codeless arming/disarming, and is compatible with the DMP XT, XTL and XR series of panels. This attractive keypad is suitable for access, burglary, and fire applications. The 7872 keypad supports zones and includes an internal proximity device reader and the 7873 model adds a Wiegand input and internal door strike. With optional Z-Wave® modules added to the system, customers can adjust lights, lock exterior doors and control their heating and cooling system.



Maximum Impact Awards is one of the only awards program in the security industry that honors the impact new and recently introduced products and services have on security integration and monitoring companies.



DMP is a privately held, independent manufacturer of innovative intrusion, fire, access control, network, and cellular communication products that are designed, engineered, and assembled in Springfield, MO. DMP is the recognized leader in alarm communication over data networks, with products that are available through professional electronic security companies. For more information, contact Melissa Pitfield at (800) 641-4282, or visit www.dmp.com.  

More from Materials