DMOS FET Arrays feature 1.5 A sink-output driver.
Press Release Summary: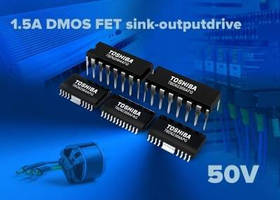 Respectively differing for their use of active high or low control logic, TBD62064A and TBD62308A series offer 4 channels of 50 V/1.5 A output. Four channels can also be paralleled to increase current driving capability. Manufactured using 130 nm BiCD process technology, products offer control inputs up to 25 V and feature 4 common cathode clamp diodes. Available packages include HSOP16, DIP16, and SSOP24.
---
Original Press Release:

Toshiba Expands Line-Up of DMOS FET Arrays



Arrays feature industry-first 1.5A sink-output driver for wide range of high-voltage applications



SAN JOSE, Calif. -- Toshiba America Electronic Components, Inc. (TAEC)*, a committed leader that collaborates with technology companies to create breakthrough designs, today announced it has expanded its offering of next-generation efficient transistor arrays. The TBD62064A and TBD62308A series features DMOS FET(1) type sink-output(2) drivers, and are the industry's first(3) transistor arrays with a 1.5A sink-output driver. The series, including the first two products (TBD62064AFAG and TBD62308AFAG), are equipped with four channels of 50V/1.5A output, suitable for driving constant-voltage unipolar stepping motors and relays, and for multi-channel, general-purpose, low-side driver power applications.



Replacing the previous-generation TD62064A and TD62308A series of bipolar transistor arrays, the new TBD62064A and TBD62308A series of arrays are available in the same package and pin configurations and provide the same functionality as the predecessors. Moreover, the new transistor approach enables them to cut power losses by about 38 percent(4).



The new TBD62064A and TBD62308A series, with control inputs of up to 25V, differ by their use of active high or low control logic, respectively. Both series include four common cathode clamp diodes that are suitable for, but not limited to, motor, relay, and lamp type of low-side driver applications. The four channels can also be paralleled to increase the current driving capability for higher power applications, where designers pay attention to the channel tolerance for power balancing.



"Implementing DMOS FET output drivers was essential to Toshiba's achieving this power-loss reduction," noted Deepak Mithani, senior director, Mixed Signal Business Unit, System LSI Group at TAEC. "They do not require a base current and can accept high current density per device area, thus keeping on-resistance low and providing high power efficiency. These products can also replace four low-power discrete MOSFETs for general-purpose power-switching applications that save cost and routing areas."



The new series are manufactured using the latest 130nm BiCD process technology and are available in either HSOP16, DIP16 or SSOP24 packages. The products are suitable for high-voltage motor and relay driving applications such as home appliances (air conditioners and refrigerators) and industrial equipment, such as vending machines, banking terminals, and factory and office automation equipment.



Availability

Mass production of the TBD62064 and TBD62308A DMOS FET arrays is underway.

1. DMOS FET = Double-Diffused MOSFET (metal-oxide semiconductor field-effect transistor)

2. Sink output: a type of current output (pull type)

3. Toshiba survey - as of May 12, 2016

4. When Tj = 90(o)C and IOUT is 1.25A



*About TAEC

Through proven commitment, lasting relationships and advanced, reliable electronic components, Toshiba enables its customers to create market-leading designs. Toshiba is the heartbeat within product breakthroughs from OEMs, ODMs, CMs, VARs, distributors and fabless chip companies worldwide.  A committed electronic components leader, Toshiba designs and manufactures high-quality flash memory-based storage solutions, solid state drives (SSDs), hard disk drives (HDDs), solid state hybrid drives (SSHDs), discrete devices, custom SoCs/ASICs, imaging products, microcontrollers, wireless components, mobile peripheral devices, advanced materials and medical tubes that make possible today's leading smartphones, tablets, cameras, medical devices, automotive electronics, industrial applications, enterprise solutions and more.



Toshiba America Electronic Components, Inc. is an independent operating company owned by Toshiba America, Inc., a subsidiary of Toshiba Corporation, Japan's largest semiconductor, solid state drive and hard disk drive manufacturer and the world's seventh largest semiconductor manufacturer (Gartner, 2015 Worldwide Semiconductor Revenue, January, 2016). Founded in Tokyo in 1875, Toshiba is at the heart of a global network of over 580 consolidated companies employing over 199,000 people worldwide. Visit Toshiba's web site at http://toshiba.semicon-storage.com.



© 2016 Toshiba America Electronic Components, Inc. All rights reserved. Information in this press release, including product pricing and specifications, content of services and contact information, is current and believed to be accurate on the date of the announcement, but is subject to change without prior notice.  Technical and application information contained here is subject to the most recent applicable Toshiba product specifications.



AGENCY CONTACT:

Lisa Gillette-Martin

MCA Public Relations

Tel.: (650) 968-8900, ext. 115

lgmartin@mcapr.com

More from Paints & Coatings