DMM/Data Acquisition System is Ethernet-based.
Press Release Summary: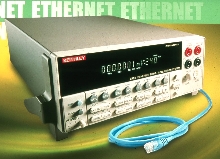 Model 2701, with 22-bit, 6 1/2-digit A/D resolution, utilizes 10/100BaseTX fast Ethernet and TCP/IP protocol. Measurement capabilities include AC and DC voltage and current, digital I/O signals, temperature, frequency, period, resistance, and event counting/totalization. Multiple channels can be scanned at up to 500 channels/sec. Built-in control logic can actuate indicators and relays, and directly interface with external systems through open-collector digital I/O.
---
Original Press Release:

Keithley Offers The Test And Measurement Industry's First 6-1/2 Digit, Ethernet-Based DMM/Data Acquisition System


CLEVELAND-May 20, 2002-Keithley Instruments, Inc. (NYSE:KEI) today introduced its Model 2701 Ethernet-Based DMM/Data Acquisition System, the industry's first multipoint measurement and control system that fully integrates instrument-quality, 22-bit (6-1/2 digit) resolution and sensitivity with Ethernet long-distance networking. Precision instrumentation can now be distributed over long distances using a defacto standard communication bus. Users can devote fewer operators and fewer PCs per test station, while realizing higher productivity and lower costs. Ethernet is built into every PC, so the Model 2701 is also ideal for single-unit applications, freeing users from relatively slow, hard-to-configure GPIB legacy systems and the
need to purchase and install GPIB cards and software. In addition, higher measurement integrity helps prevent false failures that are very expensive to correct.

Previously, readily available systems have offered only 12- to 16-bit A/D resolution (approximately 3-1/2 to 4-1/2 digits) and limited expandability. Users needing higher performance and expandability have been forced to assemble custom systems from high end instruments and add-on Ethernet adapters. The Model 2701 delivers the best of both worlds by providing 6-1/2-digit resolution, high accuracy, high channel count, very broad expansion potential, free software, and built-in Ethernet at a price comparable to less accurate Ethernet-based data acquisition products. In addition, the 2701's plug-in module approach helps reduce test time significantly and eliminates triggering, timing, and processing issues that often complicate building systems from separate instruments and switches.

The Keithley Model 2701 is based on the company's versatile Integra Series DMM/Data Acquisition/Switching platform. The Integra Series uses state-of-the-art, 22-bit, integrating A/D
conversion for best-in-class measurement precision and superior noise rejection. Standard and optional measurement capabilities include AC and DC voltage and current, digital I/O signals,
temperature (using thermocouples, RTDs, or thermistors), frequency, period, resistance (including continuity, two-wire, and four-wire ohms), and event counting/totalization. Multiple
channels can be scanned at up to 500 channels/second. The built-in, industry-standard 10/100BaseTX fast Ethernet and TCP/IP protocol provide ease of use, high speed data transfers, and convenience. The Model 2701 is housed in a compact, rugged, shielded case for maximum data integrity and reliability in remote industrial environments.

Keithley's growing family of Integra Series plug-in modules provides the industry's lowest per-channel installed cost in a high performance data acquisition and control package. Each channel can be configured separately for any of 14 measurement functions, and provides built-in signal conditioning. High isolation of up to 1000V allows measurement of virtually any electrical or physical parameter with high accuracy. Any two Series 7700 switching and signal conditioning modules can be installed in the Model 2701 for up to 80 differential channels of multiplexed measurement and control. Modules that use mechanical switching for higher voltage and isolation, or solid-state switching for long-life and higher speed, are available.

Applications and Markets. Engineers in many electronic test and measurement applications require distributed systems that can transmit data gathered from throughout a facility to a PC in
a central location. Such solutions are widely used in product development and burn-in, ATE, component testing, and process monitoring. Instruments that accomplish this goal using Ethernet interfacing have been available for several years, and provide a means of distributing measurement and control hardware economically, over a local area network or the internet.
However, performance and expandability have usually been compromised in such equipment. The Model 2701 offers distributed, remote data acquisition without sacrificing accuracy. Its convenient, easy-to-use Ethernet connectivity is perfect for benchtop design and research applications as well. Other key features of the Model 2701 include:

- Built-in control logic independent of the PC can actuate indicators and/or relays, and directly interface with external systems through open-collector digital I/O.
- Channel-to-channel variation of less than 0.5 deg C assures accurate and consistent temperature measurement across all channels.
- A 450,000 sample, non-volatile memory stores time-stamped results during data logging without tying up the network, and secures data in case of power loss.
- A built-in relay counting mechanism simplifies maintenance.

Wide Compatibility and Free Test Software. The Model 2701 is compatible with a variety of software products suitable for both custom distributed systems and simpler single-unit applications. In addition, the 2701 has a built-in web page that can be used for diagnostics, network configuration and debugging. Users can communicate easily with the Model 2701, without installing external software, by using Internet Explorer and entering the 2701's IP address in the URL (Universal Resource Locator) line. A free TestPoint runtime program offers basic datalogging capabilities that can be customized with the powerful TestPoint application development package.

Experienced programmers can build fully custom systems from scratch by taking advantage of free instrument drivers designed for use with development environments such as Visual Basic,
C/C++, LabVIEW(TM), LabWindows(TM)/CVI, and TestPoint. These free IVI-style drivers (VISA based) come with numerous programming examples to help programmers get started quickly.

Optional ExceLINX-1A software can acquire data directly into an Excel spreadsheet. This powerful and economical add-in utility for Microsoft® Excel makes it simple to acquire data from the Model 2701 directly into Excel, then employ Excel's graphics, charting, and analysis capabilities to turn that data into useful information. No programming is required.

Price and Availability: The base price of the Model 2701 Ethernet-Equipped DMM/Data Acquisition System is $1895. Delivery is in June, 2002. Series 7700 modules, accessories, connectors, and shielded cables are also available as options-contact Keithley for details.

For More Information. For more information on the Model 2701 or any of Keithley' s test and measurement solutions, contact Keithley Instruments at:


Telephone: 800-552-1115

           440-248-0400

FAX:       440-248-6168

E-mail:    product_info@keithley.com

Internet:  www.keithley.com

Address:   Keithley Instruments, Inc.

           28775 Aurora Road

           Cleveland, OH 44139-1891

About Keithley Instruments. Keithley Instruments, Inc. provides optical and electrical measurement solutions from DC to RF (radio frequency) to the telecommunications, semiconductor, optoelectronics, and other electronics manufacturing industries. Engineers and scientists around the world use Keithley's advanced hardware and software for process monitoring, production test, and basic research.


More from Electrical Equipment & Systems