DMG Announces World Premiere of New "DMC 55 H ECO" Machine at IMTS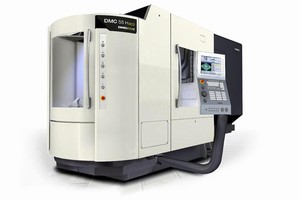 Fully featured CNC horizontal machining center with pallet changer for flexible manufacturing

One of 27 machines to be shown in Chicago

Chicago, IL-DMG America proudly announces the world premiere of its latest offering in the ECOLINE series of fully featured yet value-priced CNC machine tools designed specially for job shop use. The DMC 55 H ECO is a compact, horizontal machining center with XYZ axis travel of 22.1" x 23.6" x 23.6", 26.8 HP main drive, spindle speeds up to 18,000 rpm, rapid traverse to 1,970 ipm, CAT40 tooling, 45-position tool magazine, 15.8" x 15.8" pallet and a max. load of 1,102 lbs. At IMTS, this unit will be powered by the Siemens 810D powerline, that supplier's top of the line CNC, will full 3D simulation ShopMill software onboard and simple, easy-to-setup plain language programming. . Owing to its technology and rugged construction, this versatile DMG machining center is value-priced with an additional IMTS Show Special incentive.

This new ECOLINE machine joins 26 other machine tools as well as numerous automation solutions in the DMG booth A-8501 of the South Hall at this year's IMTS in Chicago, September 8-13. Machine tools for the job shop, automotive, aerospace and advanced materials processing on DMG laser and ultrasonic machines will be on display and fully functioning throughout the duration of the show.

The DMG machines to be shown at IMTS include:

CTX alpha 500, universal CNC turning machine for diameters up to 7.9"

CTX beta 800, universal CNC turning machine for diameters up to 16.1"

CTX beta 1250 TC, universal CNC turning/milling machine for 49.2" lengths

CTX gamma 2000 TC, universal CNC turning/milling machine for 22" diameters

CTX 310 ECO V3, universal CNC lathe with 12 tool stations and up to six live tools at a price at $69,900

CTX 510 ECO V3, universal CNC lathe with 26.8" swing, 41.3" travel and 3D programming, all at a very affordable price

CTV 160, vertical CNC turning center with fast, simple automation for quick turnover on small workpieces for serial production and universal application

MSL 42-7, workhorse CNC automatic lathe with gripper spindle for two-sided machining of complex parts, using one live and four fixed tools

SPRINT 20-8 linear, CNC automatic lathe for bar stock to 0.79" diameter, with three live tools, eight axes and spindle speeds to 10,000 rpm

SPRINT 50 linear, CNC automatic lathe for bar stock to 2" diameter, with three live tools working simultaneously plus 12 live tools in three turrets for maximum turnaround

GMC 42 ISM, CNC six-spindle automatic lathe with independent 20.1 HP spindle motors and precision control in 56 axes

DMU 50, CNC universal 5-axis milling machine with digital drive rotary swivel table for the optimum in moldmaking and complex part production

DMU 40 monoBLOCK®, compact CNC machine with simultaneous 5-axis milling, ideal for the high precision world of medical, aerospace and ultra-tight tolerance moldmaking

DMU 80 monoBLOCK®, heavy-duty CNC machine with highest dynamic forces, large table size and 150º (30º negative) B-axis

DMC 635 V, entry level CNC milling machine for workpieces to 1,323 lbs., with 1,181 ipm rapid traverse and 1.6 second chip-to-chip times

DMC 835 V, heavy-duty CNC mill for workpieces to 1,764 lbs., with 20-tool magazine, 10,000 rpm motor spindle and XYZ travel of 32.9" x 20.1" x 20.1" and will have DMG
Automation onboard at the show, entirely controlled by the onboard CNC

DMC 635 V ECO, the most effective vertical mill on the market for $64,900, features 3D programming and cycle simulation with a powerful CNC onboard to produce more parts in less time

HSC 55 linear, versatile CNC milling machine with linear drives in all axes plus swivel rotary table for simultaneous 5-axis work

DMU 70 eVo linear, high-capacity CNC universal milling machine for 5-axis, 5-sided work with linear drive in the X-axis and a combination gantry/traveling column design for maximum flexibility

DMU 60 P duoBLOCK®, production grade CNC milling/turning machine for aerospace, simultaneous 5-axis machining, 354-tool magazine

DMU 80 P duoBLOCK®, larger CNC milling/turning machine, equipped with special tooling to cut glass and other substrates

DMC 125 FD duoBLOCK®, larger CNC milling/turning center with pallet for serial production of the heavy, bulky parts with swivel rotary table, simultaneous 5-axis/5-sided machining and full 3D cycle simulation for time savings

DMC 160 U duoBLOCK®, production CNC milling/turning machine with 63" x 49" x 39" XYZ travel, same high-accuracy and precision motion control for large workpiece aerospace turning, automotive moldmaking and more

DMC 65 H duoBLOCK®, compact CNC horizontal machining center has 27.6" x 27.6" x 27.6" XYZ travel, rapid traverse of 3,150 ipm and 18,000 rpm spindle speed in a rugged frame

ULTRASONIC 20 linear, versatile multi-function CNC machine allows HSC milling in addition to hard machining of glass, ceramic, tungsten carbide and even exotic materials used in medical and semicon applications

LASERTEC 80 PowerDrill, extreme precision CNC laser performs 5-axis drilling on aerospace components, power generation equipment and more, owing to its Nd: YAG laser with repeatable 0.00039" diameter hole capability; up to 50 kW pulse power

In the area of automation, DMG will display examples of its many options for shop and plant productivity enhancements, including such devices as pallet changers, sophisticated tool management systems, work cell arrangements, portal loaders, articulating and load-bearing robots plus engineers will be on hand to discuss full turnkey operations including parts cleaning, deburring operations, optical scanners and CCTV workstations.

Please visit DMG America at Booth A-8501 in the South Hall during IMTS.

Press kits will be available with full details on all above described machines and services.

For more information prior to the show, please contact:
DMG America, Inc.
265 Spring Lake Drive
Itasca, IL 60143
Phone: 630-227-3900
Fax: 630-227-3975
Web: www.dmgamerica.com
Email: info@dmgamerica.com
Daniel Wenker, Marketing Manager

DMG will host a press conference and media event on Monday, September 8 during IMTS. Details to follow shortly. Save the date!

More from Test & Measurement