DM01 Linear Guides Featuring Higher Bending Stiffness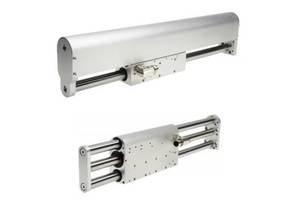 LinMot will complement the product group of linear guides with the newly designed DM01 series starting in 2020. This is a complete drive solution consisting of a linear guide and permanently integrated LinMot stators. Depending on the requirements in terms of stroke length and power requirement, LinMot offers more than 20 variants within the DM01 product family. This gives the user a wide range of options for solving the task at hand.
The advantages of the new linear guides prove to be useful with particularly precise and dynamic movements. LinMot has therefore developed a product concept in which the linear motor is permanently installed together with the guide. Precision shafts guided by linear ball bearings ensure precise linear motion. The rounded surfaces of the housing also facilitate simple maintenance and cleaning of the new linear guides. Due to the selection of the material and the developed design principle, these linear guides achieve a higher bending stiffness than before when compared with a constant moving mass. The core technology of the guides consists of the already proven LinMot linear motors PS01-23, PS01-37 and PS01-48, depending on the choice. The user can thus realize a force range of up to 572 N and strokes of up to 575 mm. Accelerations of up to 390 m/s2 and a maximum speed of over 2.9 m/s leave nothing to be desired in terms of dynamics. Each DM01 linear guide is delivered pre-assembled to the customer and does not have to be assembled from individual parts. Therefore, only one article number is required for ordering. The commissioning of the drives is very simple as all DM01 linear guides are equipped with «Plug and Play» technology. The required type parameters do not have to be selected manually; they are automatically read in by the servo drive.
The DM01 guides in sizes 37 and 48 will be available beginning in January 2020. Later, in the first quarter of 2020, the DM01-23 linear guides will become available on the market.
Contacts:
LinMot USA
LinMot USA, Inc.
N1922 State Road 120, Unit 1
Wl, 53147, Lake Geneva
USA
Tel: +1-262-743-2555
Web: www.linmot.com
Email: usasales@linmot.com
LinMot Europe
NTI AG - LinMot & MagSpring
Bodenaeckerstrasse 2
CH-8957
Spreitenbach
Schweiz
Tel.: +41(0)56 419 9191
Fax: +41 (0)56 419 91 92
Email: office@linmot.com
Contact This Company Download Spec Sheet
More from Electrical Equipment & Systems