DM XiO™ Director Network System automatically discovers DM NVX endpoint.
Press Release Summary: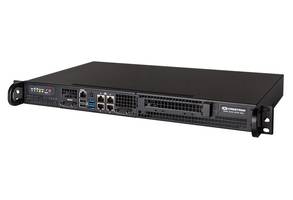 DM XiO™ Director Network System is offered in DM-XIO-DIR-80, DM-XIO-DIR-160 or DM-XIO-DIR-ENT models. Suitable for corporate enterprise, university, governmental, military, medical, transportation, sports, entertainment and hospitality applications, unit configures, manages, and controls DM® NVX network AV systems. System provides web-based user interface for configuring and signal routing.
---
Original Press Release:
New Crestron DM XiO™ Director Network Appliance Simplifies Deployment of DM® NVX Network AV Systems
Enterprise-grade appliance is the new AV matrix for the IT age; three models available, based on number of required endpoints
Crestron, a global leader in enterprise control and automation technology, announced today that it is now shipping DM XiO™ Director, the new AV matrix for the IT age. An enterprise-grade network appliance, natively running simple yet powerful software, the DM XiO Director centrally configures, manages, and controls DM® NVX network AV systems. The DM XiO Director is available in three models, depending on the number of DM NVX endpoints. The software tool enables device discovery, domain configuration, endpoint mapping, multicasting management, and status monitoring. DM NVX Series is the industry's only secure solution that delivers 4K60, 4:4:4, and HDR video over standard 1Gb Ethernet.
"Once your DM NVX network is installed, you need to route the video and manage the system. The DM XiO Director makes it easy to set up large networks of endpoints, name rooms, monitor signal paths, and manage video data over a standard IP network," said Rob Carter, Technology Manager, DigitalMedia.
Virtual DM switcher
The DM XiO Director virtually emulates the functionality of a traditional hardware-based DigitalMedia matrix switcher, routing 4K60 streaming AV signals throughout a room, building, or campus. Three models are offered which support 80 (DM-XIO-DIR-80), 160 (DM-XIO-DIR-160), or unlimited (DM-XIO-DIR-ENT) endpoint devices. DM XiO Director can handle even the largest corporate enterprise, university, governmental, military, medical, transportation, sports, entertainment, hospitality, gaming, or retail application.
Simple, flexible configuration
The DM XiO Director automatically discovers each DM NVX endpoint on the network, and allows each one to be assigned to a "domain" using a simple UI. A domain is simply a logical grouping of endpoints that operate together as a single switching entity, allowing individual rooms and other subsystems to be arranged and controlled independently. The DM XiO Director effectively eliminates the need for physical switchers in every room, replacing them with the virtual equivalent running on the AV network.
Easy web-based setup and control
The DM XiO Director provides an intuitive web-based user interface to facilitate system configuration, signal routing, and comprehensive diagnostics of the complete AV network. Each domain and endpoint can be designated with a user-friendly name. Navigating the entire system is easy using the search box to quickly find domains, endpoints, inputs, and outputs by name or address. A system overview screen is also provided, showing the video and audio signal status for every input and output in a graphical layout that's easy to view and navigate.
Learn more Visit the DM XiO Director product pages (https://www.crestron.com/en-US/Products/Video/DigitalMedia-Streaming-Solutions/Accessories?) for more information including specifications, photos, pricing, and accessories.
About Crestron
At Crestron we build the technology that integrates technology. Our automation and control solutions for homes and buildings let people control entire environments with the push of a button, integrating systems such as AV, lighting, shading, security, BMS and HVAC to provide greater comfort, convenience and security. All of our products are designed and built to work together as a complete system, enabling you to monitor, manage and control everything from one platform.
Our products are backed by more than 90 fully-staffed offices that provide 24 x 7 x 365 sales, technical, and training support across the globe. In addition to its World Headquarters in Rockleigh, New Jersey, Crestron has sales and support offices throughout the U.S., Canada, Europe, Asia, Latin America, and Australia. Discover Crestron by visiting www.crestron.com.
More from Electrical Equipment & Systems